Link Exchange: Is It Safe? Can You Rely On It In 2023?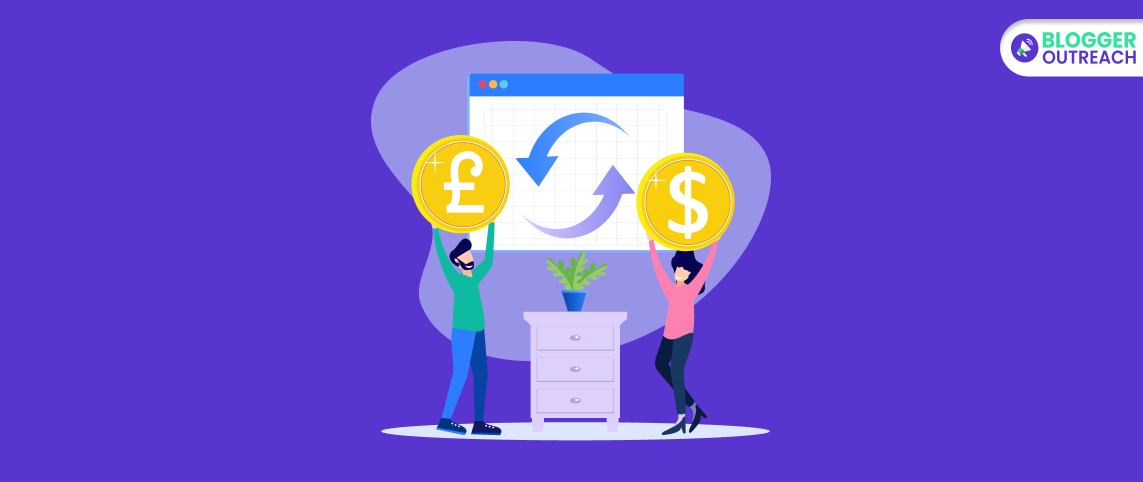 As we are going to cover the most debatable topic in this space…
…we want your utmost attention.
Simply put, link exchange is when two websites link to one another. This is often known as reciprocal linking.
However, there is a difference between the two terms.
Unlike reciprocal link building, link exchange can occur among multiple sites.
We have seen this lately…
Regardless of Google's stance, numerous site owners actively seek link exchange opportunities.
Being in this space longer, we've had countless link exchanges directly approached by webmasters. In fact, some of them were top bloggers.
We know that you want to know how Google perceives link exchanges. Wait a bit; we will talk about this in a few minutes.
But before that, we want to teach you about the types of link exchanges.
So, Here Are The Types Of Link Exchanges
Are you wondering how link exchange works? Though distinct in approach, all the strategies are intended to get better SEO benefits. However, it's worth noting that certain methods carry higher risks than others.
Well, let's see the type of link changes on-by-one:
1. Reciprocal Links
What is a reciprocal link in SEO?
It's like the Barter system. Reciprocal linking is a straightforward arrangement where two websites agree to exchange links.
The primary aim is for both website owners to gain quality backlinks that enhance their SEO results.
Search engines like Google recognize this (if done excessively) as a link scheme.
However, reciprocal links often come about organically or due to their logical relevance. These links are sometimes created without any formal agreement.
2. Private Networks
As the name suggests, a "private influencer network" (PIN) involves a cluster of websites or companies collaborating together.
This is quite common for websites in related niches.
They exchange backlinks and mutually promote one another. This aims to elevate their rankings and enhance traffic.
Comprising Four Or More Pertinent Websites, A PIN Involves These Sites Sharing Links Across:
Homepages
Blogs
Guest posts/articles through various methods
Alternatively, individuals can combine efforts to initiate a PIN from the ground up.
Each participant in the group can establish one or more authoritative sites within the same niche. These sites provide valuable inbound links and social mentions. Certainly, the aim is to enhance the link popularity and ranking of the targeted site.
3. Guest Post Exchange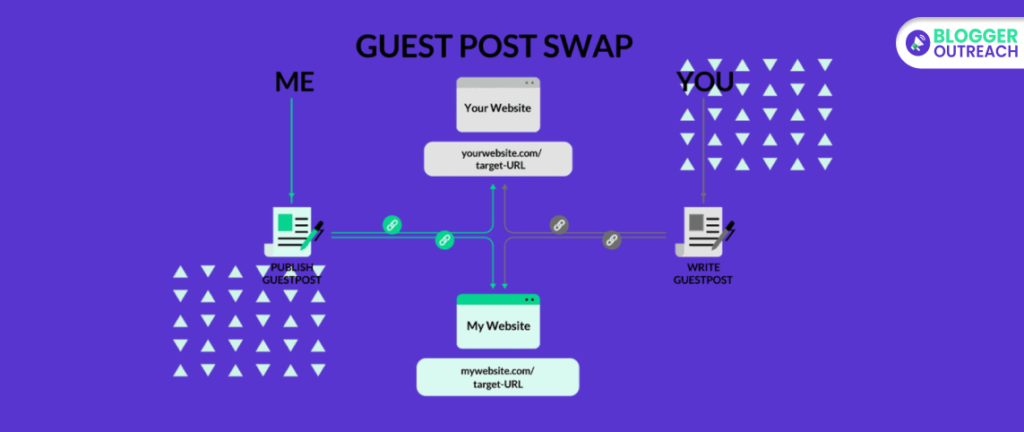 A guest post swap involves individuals creating guest posts for different websites. It includes a link to each other's target site and a backlink to their site.
In fact, Guest posting offers numerous advantages for link building. It allows websites to gain exposure to relevant topics and domain authority.
If you can't find a direct exchange partner, you can still offer your guest posting service (as a gesture of goodwill). This will potentially pave the way for future reciprocity.
To begin, reach out to a connection within your niche. Then, propose a guest post with a link from an appropriate article on another site.
Ask for a list of relevant target pages if they're interested. With some luck, they might agree to a similar arrangement.
4. Three-Way Link Exchange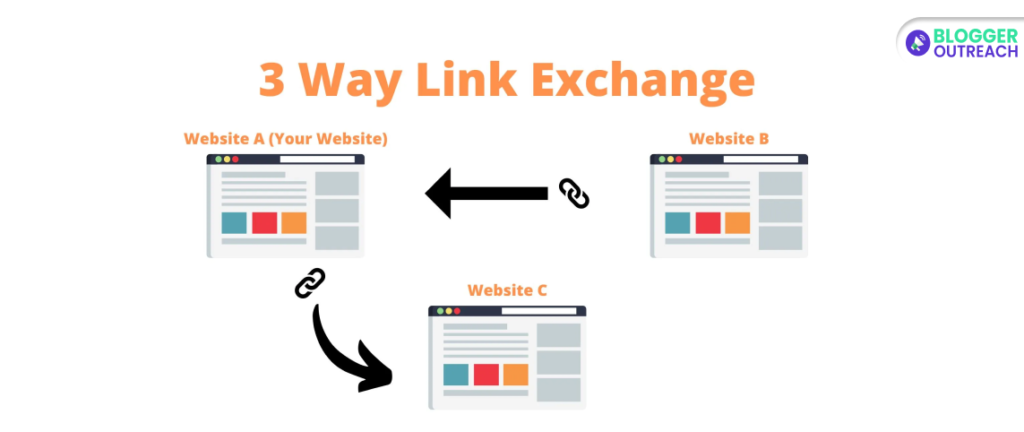 The concept of a three-way link exchange originated to avoid traceable patterns and possible risks of direct link swaps.
This approach involves two websites replicating the outcome of a direct link exchange but through an intermediary site.
This site serves as a bridge to send and receive links between them.
For a three-way link exchange to be effective, it requires at least two high-quality websites.
How Does Google Perceive Link Exchange?
We know that you were eagerly waiting for this. Let's take excerpts from Google's official document.
See what Google has said…
"Excessive link exchanges ("Link to me and I'll link to you") or partner pages exclusively for the sake of cross-linking."
They have coined the term "excessive" here. Clearly, there is a ray of hope for SEOs who believe in an organic process.
If you are an SEO veteran, you're aware that Google's stated guidelines and their actual actions don't always match up.
For instance, back in 2014, Matt Cutt mentioned that backlinks are no longer valid. However, that is far from reality. Backlinks are still among the most important ranking factors, even in 2023.
As a team of experts, we know that there is a way of looking at Google's updates. So, to decipher their intentions, sometimes you need to read between the lines.
There is a Golden rule: Refrain from manipulating the search engine. Always produce people-first content. If you help Google provide an optimum user experience to address users' queries – there is no need to worry, friend.
So, here is the verdict: Link exchange is safe if you do it organically. Always strive for value creation. Link exchange can bring fruitful results if done in moderation. Most importantly, they must be organic, relevant, and come with value.
Understood? Don't go anywhere! Here is the amazing study that we are going to reveal.
Ahrefs' Study On Reciprocal Links
Here is the study from Ahref that substantiates the importance of link exchange. Let's look at this.
They took a sample size of 140k websites with 10k+ monthly Google visits.
So, Here Are The Highlights:
Around 26.4% of sites had no reciprocal links, 73.6% did.
Having a certain percentage of reciprocal links is natural. They won't necessarily lead to Google penalties.
On average, 4-5 out of every top 10 organic Google rankings include pages with reciprocal links.
Ahrefs discovered that 19% of the domains they link also reciprocally to link back to them.
40% of sites with higher search traffic have reciprocal links to them.
We hope that this data was enough to understand that you can reap the benefits of link exchange.
Wait…we have more to it.
Here Is What Ahrefs Has Cited In Regard To Link Exchanges.
"When done ethically and with the aim of providing value to users, link exchanges can be a beneficial SEO strategy. For instance, if two websites in the same industry or niche link to each other's content because they believe it would be useful to their respective audiences, it can be a legitimate link exchange that benefits both websites."
Questions To Ask Yourself Before You Get Into Link Exchange
When to know that the site you are linking to is good for you?
Here Are The Considerations:
Is the Link Relevant? Is the website you're considering exchanging links with relevant to your content and audience?
Does the website have a good reputation, high-quality content, and a clean design?
Are you exchanging links SOLELY for the purpose of getting a link in return? (wrong practice)
Will the link provide value to your visitors? Is it placed in a context that enhances the user experience?
Is the Anchor Text Natural?: Is the anchor text relevant and diverse?
Does it Violate Search Engine Guidelines?
Is it a Reciprocal Linking Scheme? Are you participating in a large-scale, organized link exchange scheme? (red flag)
What's the Long-Term Value? Will it continue to be relevant and beneficial as algorithms evolve?
How Would You Feel as a User?: Put yourself in the shoes of a user. Would you find the link valuable and relevant, or would it seem out of place?
Is the Linking Process Manual or Automated? (Automated link exchanges can be flagged by search engines. Manual, thoughtful link placements are more likely to be seen as legitimate.)
Is the Exchange Transparent? (Hidden or misleading links can damage trust/0.
We feel the above questions are more than enough to give you a clear roadmap. Now, it's up to you how you take benefit of them.
Just To Be On The Safe Side, Follow These Strategies…
To start with, never rely on link exchange solely. This can not be your main strategy. Combine it with a top link-building strategy (guest posting).
Credibility is pivotal. Refrain from doing a link exchange with random people. Rather, collaborating with trustworthy people.
Ensure the proportion of exchanged links aligns with your niche.
Use a spreadsheet to compare outgoing and incoming links, identifying duplicates.
For a thumb rule, we recommend that 5-10% of your links can get through link exchange – not more than that.
Our Take On Link Exchange
We always tell people not to treat link exchange as their main link building strategy. Particularly, Google has already emphasized the word 'excessive' prior to link exchanges. All you need here is to apply common sense. By doing so, you will understand that link exchange in moderation isn't harmful.'
Instead, focus on quality content. Most importantly, strategies like guest posting should be your focus here.
BloggerOutreach is always here to help you regarding your link building efforts.
Read Also: