What Is Guest Posting In SEO? – A Beginner's Guide
What is Guest posting? this is the question that arises in every blogger's mind and if you are a blogger who is not happy with the traffic driven to your website, you should consider investing in guest posting? Otherwise known as guest blogging, guest posting is the practice of contributing a post on someone else's website to boost authority, exposure, and links.
It offers a great opportunity to secure links from other websites and improve search engine rankings. Guest posting helps establish relationships with influencers hosting your blogs, establish authority in a niche, and tap into audiences for more exposure.
The concept of guest posting is quite simple – You write a blog post, adhering to the requirements laid out by a specific blogger. In return, you get a backlink in the author bio.
It is a win-win solution for website owners looking to increase search engine rankings and those who are interested in attracting more traffic to their blogs.
15 Secrets To Maximize The Impact Of Your Guest Posting Campaign And Boost Your Brand Awareness
By now, you understand how guest posting works. It's time to add fuel to your guest posting efforts.
How Guest Posting Contributes To SEO?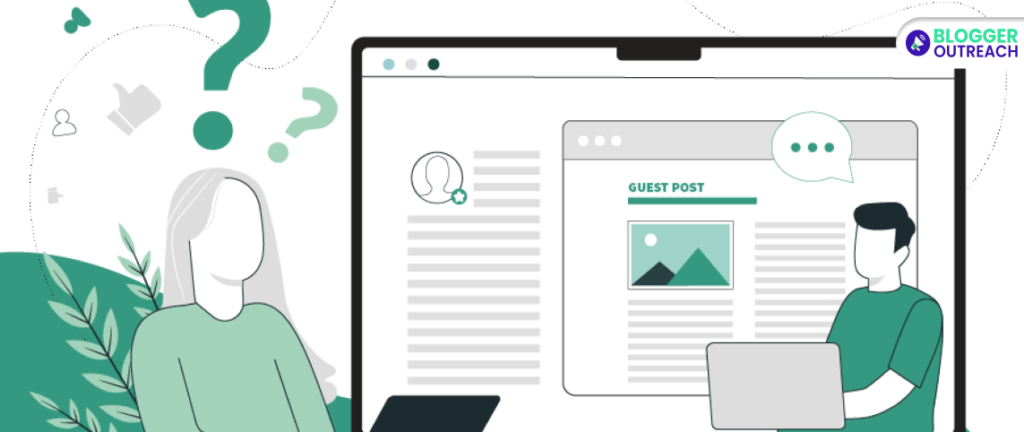 Backlinks are an important factor in search engine optimization and will continue to be for the foreseeable future. Securing new links to websites you contribute blog posts goes a long way toward boosting your site's search engine ranking.
Google uses different aspects to gauge links including the domain and page the link is on. The anchor text and placement of a link on the page are also considered when analyzing a specific link.
Anchor Text:
This is the hyperlinked or clickable part of the text. There are different types of anchor text including:
Keyword-rich – specific keywords to rank for e.g. "blogger outreach service," "blogger outreach agency," and "blogger outreach company."
Branded text e.g. your brand's name.
URL – full or partial URL of a page.
Partial match.
White noise – click here, here, this, link, etc.
The purpose of anchor text is to clue readers and search engines into what a page is about. It can have a huge impact on SEO rankings, but its success requires more than just inserting keywords in every link. Building links with a natural anchor text profile requires links that are not just SEO focused.
You need links that add value and make sense, which means you can't use the same anchor text repeatedly. Otherwise, search engines view your acquisition efforts as manipulative.
Link Placement:
Links should be placed naturally within the body of the article. They should be relevant to the topic and support your blog post. Guest posts usually have a biographical that speaks about your brand or background. It is known as an author profile and often includes a link.
You should make an effort to ask website owners for a link within the article. This is particularly important if it adds value to the readers, and makes contextual sense. A link in the body of the text is important because it is more natural, better for SEO, and more likely to be clicked on by readers as compared to the link in the author bio.
Finding Guest Post Targets
Start by finding keywords like-
"submit blog post"
"guest article"
"accepting guest posts"
"become a guest author"
"submit blog post"
"guest blogger"
"accepting guest posts"
"become a contributor"
"guest post opportunities
"contributing writer"
There are many ways of finding a website to guest post on. The most popular and simplest technique involves using Google search strings. In addition to the usual "keyword" + "write for us" string, below are more search strings to get you started.
Case Studies
The Google Reverse Image Search Technique involves finding someone in your niche who writes a lot of guest articles. Once you do, you copy the URL of the headshot used in their author bio.
Paste the link into Google's reverse image search. You will get a list of websites they have guest-posted.
Twitter search is quite untapped and offers access to guest posting opportunities you would never find on Google. Its results are fresher than Google's index and as such, it's easy to find sites that are actively hunting for guest articles. Go to Twitter Search and enter a guest post search string.
Reverse engineering your competitor's backlinks is another effective solution to identifying guest posting sites. For instance, AudienceBloom ranks a lot of keywords in content marketing. If you take the homepage URL and blast it into Ahrefs Site Explorer tool, you will get a list of all of their backlinks.
It is important to note that this is a paid tool and that not every result you get will come from guest posts. However, it's a great way to find high-quality websites with guest posting opportunities.
Blog Comment Tricks For Guest Posting
An advanced guest posting strategy you could try is the blog comment bonanza. This is a technique you'll want to avoid if you've never published a guest post. That said, those who comment on guest posts aren't always random people. Some are bloggers who run successful websites, probably in your niche. After replying to their comments, consider sending them an email.
Here Is A Template That You Can Edit Accordingly:
Hello Name,

Thank you for taking the time to comment on my guest post on the Website. I never thought of the fact that something they said in a comment. That's a great point.

Anyway, I have another guest blog idea that would be perfect for your readers. It is called a Guest article title and explores brief details about the post.

I can send it to you this well.

Either way, I appreciate your insights.

Regards,
Your First Name.
This simple template can land you incredible guest posting opportunities from websites that don't even have a "Write For Us" page. The reason why this method works so well is that people who leave comments obviously like your work. They will say yes so long as you send them an amazing post.
Separate The Wheat From The Chaff
Having a list of websites that accept guest posts is not enough. You need to identify the sites that are a good fit and worth writing for. To be clear, this is not about being too picky. In fact, it's better to focus on websites that aren't too popular if you are just starting out. They will be more likely to accept your guest posts and as you increase your portfolio,
You Can Level Up To More Popular Sites.
Be in your niche or a related one.
Have a significant number of social media followers.
Have an authoritative link profile.
Only post high-quality content that's of value to readers.
Below are a few factors to consider.
Any website you consider should have decent traffic. After all, you want links from sites with an actual audience. The best way to determine how well a website is doing in this regard is to use Google Analytics and Search Console. Unfortunately, accessing these tools isn't always possible. The next best thing is Ahrefs or SEMRush. It doesn't have to appear on the first page, but it should certainly be within the top 50.
Reviewing a website's domain history should also take precedence when analyzing it. The domain name should be understandable. Use a backlink-checking tool like Majestic to check its historical profile. Don't forget to review the website with the Wayback Machine. This tool archives the website so that you can view past editions. Below are screenshots of the same website using Wayback Machine.
A good website should have an equally good link profile. Ahrefs is pretty good at evaluating life and dropped links. Moz's Domain Authority is also a good tool for analyzing the authority of a website.
Getting Your Guest Post Ready
Now is the time to warm up to your targets and get on their radars. But how do you do it? A good way to get your name etched on a blogger's brain is to share their posts on social media. You should also take a few moments to leave insightful comments on their site and email them to explain how a specific article helped you.
The next step after warming up to a blogger is to identify the perfect guest post topic.
There Are Different Ways To Go About This:
Check out the site's most popular posts.
Tools like Ahrefs list a blog's best performing stuff.
BuzzSumo helps find trending topics in your niche.
Guest posts already published on a website can give you a clue as to what specific bloggers look for when vetting articles.
Check the guest post guidelines. Some bloggers are very specific about what they want and it's crucial that you take their guidelines to heart before pitching an idea.
Send Your Guest Post Pitch
I'd imagine that if I were the owner of an authority website with an overflowing inbox, I'd delete any generic guest pitch. The same goes for most website owners. No one wants to waste their time on generic ideas that won't benefit them.
Below Is An Email Template That You Can Use:
Hello Name,

I am a long-time reader and love the quality of your articles. My favourite piece is the post on the Article.

I am writing to you because I'd love to contribute a guest post on your site.

Here are a few ideas I've been working on that I think would be valuable to your readers. State the 3 ideas The piece will have information that can't be found anywhere else.

This link to a guest article I recently published onthe website will give you an idea of the quality I'll bring to your readers.

Regards,
Your First Name.
What Makes The Above Email So Effective Is That:
Starts off with something specific.
It offers three guest post ideas to choose from.
Touches on your experience and published work.
It is short and sweet.
Writing Your Guest Post
Now that a blogger accepted your pitch, you actually need to send them something. But if we are being honest, you can write a 3000-word post for every site. This is the reason why you should separate target sites into two categories.
You can name them off the top of your head. The other category consists of websites that are acceptable enough to warrant a quality article. However, they are not authoritative enough to spend a week writing a masterpiece.
Websites in the first category are authorities because they only publish high-quality articles. Any content you write for them should be as good as what you post on your site or better. It should be mind-blowing, change minds, spur action, and spark conversations. That is the kind of content that will force editors to hit "publish."
Keep The Following In Mind When Writing For These Sites:
Aim for a minimum of 2500 actionable words unless otherwise specified.
Include custom visuals like flowcharts, screenshots, and more. These add value to articles and make them stand out.
Internal links to some of the site's other content show the owner that you went the extra mile to make the guest post as valuable as possible.
This doesn't mean that websites in the second category don't deserve some love. Make sure that your guest post adds value to the readers. Include visuals and internal links. After all, they must have something going for them if they are on your list of targets.
Follow Up
There are a variety of things you can do to ensure you get the most out of every guest post. For starters, don't just publish and run. Take time to reply to comments. In fact, you can just leave a comment to let your readers know that you are hanging out to answer questions and respond to their comments.
Sharing your guest posts on social media is a win-win for you and the website. You get to share something of value to your followers and the site you posted on receives more traffic. If publishing on highly authoritative sites, you should send a follow-up email.
Let the owner know that you appreciate the opportunity. It's a good way of keeping the line open for the next time you want to publish a guest post.
Stay True To Your Niche And Embrace Your Expertise
Focus On Your Expertise: When guest posting, writing about topics within your field of expertise is essential. Whether you're a digital marketer, content creator, or specialist in any other domain, stick to what you know best.
Narrow Your Focus: Don't venture too far from your niche. Writing within your area of expertise showcases your knowledge. Thus, it helps you build credibility and authority.
Avoid Muddling Your Brand: Covering multiple unrelated subjects can confuse both your audience and search engines. To maintain a clear brand identity, specialize in your chosen field.
Be A True Expert: Your credibility hinges on being a genuine expert in the topics you address in your guest posts. Write from a position of authority to establish trust with your readers.
Craft Evergreen Content
Prioritize Longevity: While news and trends can be exciting to write about, guest posts with lasting relevance (evergreen content) are invaluable. Strive to create content that remains valuable for years to come.
Balance Evergreen And Timely Content: In industries where change is constant, like technology, it's challenging to maintain evergreen content. Aim for a balance—70% evergreen and 30 on other topics.
Target Relevant And Strong Websites
Look Beyond Domain Authority (DA): Don't solely focus on a website's Domain Authority. High DA doesn't guarantee quality or relevance. Instead, assess a site's overall strength and alignment with your niche.
Seek Quality and Expertise: High-quality websites with authoritative content and expert contributors are ideal for guest posting. Pay attention to the quality of the content and the relevance of external links.
Evaluate Traffic Metrics: Before pitching, request traffic metrics to ensure the website attracts the right audience. Additionally, inquire about link-building practices, as irrelevant links can harm your brand.
Prioritize Brand Building: Concentrate on building your brand and reputation through guest posting. Links should be a secondary concern. If a site doesn't align with your brand, move on.
Foster Relationships With Trusted Publications
Nurture Connections: Invest in that relationship once you find a reputable website where your guest posts resonate with the audience. Continuously contribute valuable content to strengthen your presence.
Quality Over Quantity: Some may argue that multiple links from one publication hold diminishing value. However, the focus should be on building your brand and influence, not solely on link quantity.
Align With The Audience: Ensure your content resonates with the website's readership, enhancing your reputation and increasing the likelihood of being published again.
Optimize Your Author Bio
Maximize Bio Strength: Your author bio is your gateway to readers. Make it compelling by linking to a relevant website and crafting a concise yet impactful description that aligns with your brand.
Bio As A Click Magnet: Readers often click on author bios to learn more about the writer. Capitalize on this by making your bio engaging and informative.
Never Neglect SEO
Don't disregard SEO when crafting guest posts. Some fundamental SEO elements to remember include:
Target specific keywords.
Craft concise, keyword-rich headlines.
Utilize numbers and brackets in headlines for better engagement.
Incorporate target keywords in meta descriptions.
Include related keywords naturally within the content.
Properly use header tags with relevant keywords.
Enhance readability with bold, italics, and bullet points.
Suggest internal and external links to boost content's value.
SEO Ensures Visibility: SEO optimization ensures your guest posts are discoverable by search engines, driving organic traffic to your content.
Go Long And Reference Relevant Sources
Studies indicate that long-form article attracts more backlinks than short ones.
Focus On Quality: Lengthier posts often provide more value. Aim for well-thought-out, comprehensive content that genuinely benefits the reader.
Cite Industry Experts: Enhance your content's credibility by referencing other experts within your niche. Unique quotes from authoritative figures can elevate your guest posts.
Conclusion
One thing you should never forget is that guest posts can rank highly on search engines and give your brand more awareness or website traffic. This requires writing an SEO-optimized article that engages readers and sparks conversations. That said, guest posting is something we do quite well.
Get in touch and let's talk about optimizing your blog for search engines with guest posts.
Read Also: