Best Blogger Outreach Service Agencies of 2022
Are you thinking of contacting a blogger outreach service agency? Well, if you want to work more on your SEO jobs, then it is a good idea. But most of the time while searching for any SEO services or digital marketing agency, we do not have the proper knowledge about the array of services that they will provide or we will need. And many of us also do not have an adequate idea about this digital world. Through the article, you will get a brief idea about which blogger outreach service firm you should consider as best.
What is Blogger Outreach Service?
It is a process of placing your content or product at the front desk of relevant journalists or relevant bloggers. This can be done by simply sending emails to them. Convincing the large targeted audiences to speak about you along with linking to your website is the main objective of a blogger outreach service.
Generally, on a basic scale, there are four types of blogger outreach service and they are :
Sponsored Posts

:

You can simply ask a blogger as per your preference to write and publish along with links and mentions of your brand. Based on the blogger's popularity, post type you need to pay the person.

Product Reviews:

Everyone loves free products. You can send bloggers your products for free and ask them to publish a review in the form of a blog post, video, or photo on social media. If the blogger likes your products they will definitely tell that.

Product Features:

It is quite sane as a product review. But here in place of reviewing your product, the blogger will mention your product in a broader topic.

Giveaways:

it is another method. By hosting a giveaway through their blog, Youtube, or other social media, the blogger can feature your brand there.
Best Blogger Outreach Service Agencies
1. BloggerOutreach.io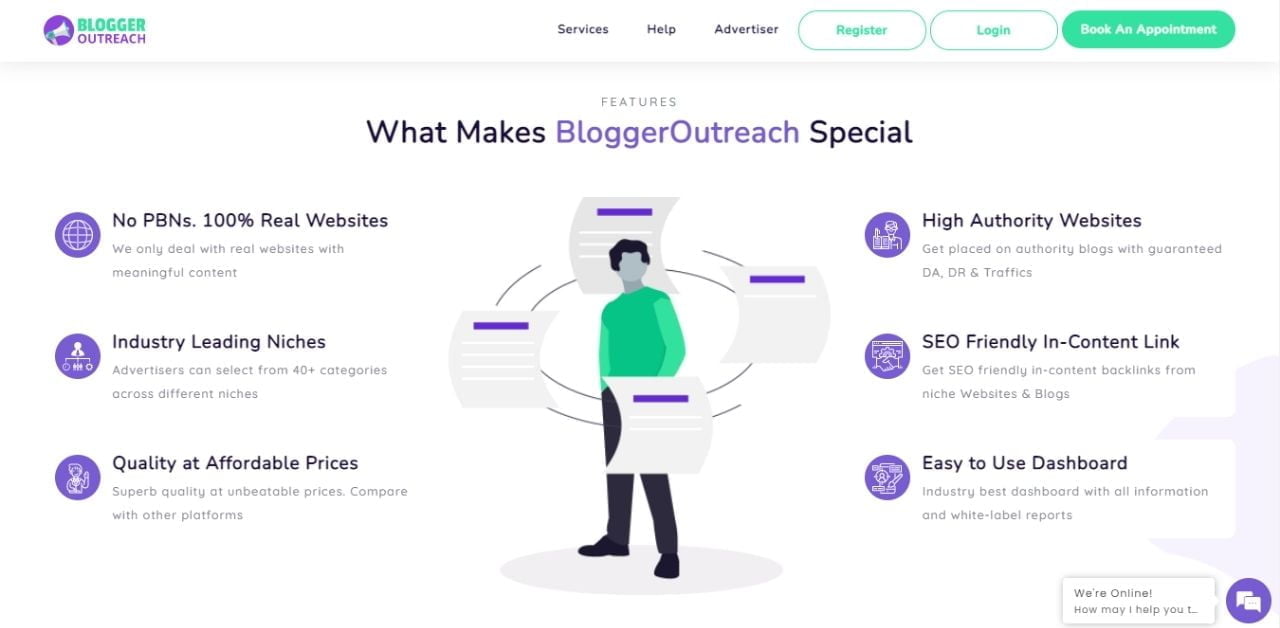 BloggerOutreach.io offers a complete package of link-building services. So whether you are looking for in-content white hat links or high-quality backlinks through manual outreach, Blogger Outreach ensures tailor-made services. As of now, it has helped more the 10,000 agencies to scale up their game and build authority in their respective niches.
Here is how you can extract the best out of Blogger Outreach.
Outreach Services: With the Blogger Outreach services, you can get in-content white-hat links to help you with SERP rankings. What's more, you get a niche-based website to boost your authority in the industry.
Guest Posting: With the help of Guest Posting services, you can place yourself on the website with a high Domain Rating, Domain Authority, and Relevant Traffic. In addition, you get Do-Follow in-content links that help to circulate SEO juices.
Content Writing: Content Is King – We have always believed this to be true and pursue creating conversion-oriented and SEO Optimized content that drives sales.
Get in touch:
Have an issue in mind? Do not worry; we are more than happy to help you out. Contact us to get your queries resolved.
2. LinkPitch
From the very name, we can understand that this blogger outreach service-related company works on building links that are quality, personalized, and also have a long-term effective impact. Their high-quality and exceptional blogger outreach service duly matches up with the latest SEO and blogger outreach program trends.
To improve your profile, this community outreach company used approaches with different aspects to get links from good quality sites. They do it in several steps, which are
Uses email outreach. This way, they build a long-lasting and mutual relationship with individuals of targeted websites or with those, who have editorial controls of those websites. Linkpitch targets those bloggers who have high metrics sites.

Link pitch evaluates your constant to determine whether your content is worth some liking or not. In case if the content on your website has the potential but does not merit the approaches, Linkpitch will also give you suggestions to improve them.

It used a balanced approach to determine whether the content will work effectively for email outreach. Based on past experience, they can determine which Linkbuilding strategies to be followed or not.

To achieve the best result of blogger outreach service, Linkpitch determines link posting strategies for each and every content. Unlinked mentions, broken links, content promotion, and resource pages are some of the popular strategies that Linkpitch uses.

It also does link prospecting. Apart from all the above-mentioned strategies, link building can reach out to surveys using Google search operators and pull up a list of sites that are linked to a particular page.

Linkpitch also searches for those who make all editorial decisions in companies and send them personalized emails.
Get in touch:
Linkpitch does not have any specific dashboard where you can fill in your request details for the blogger outreach service. You can send an email to them or fill up the contact form to get in touch with them. They take more or less about half an hour to get back to you after you fill the contact form.
3. OutreachMama
OutreachMama offers two link building services or blogger outreach service
Guest Posting Package: With this service, clients can use blogger connections of OutreachMama. To develop this connection, this blogger outreach service agency meets certain thresholds such as organic traffic, DR, and DA. You also may find some resources and link building strategies.


Outreach Package: This package includes 8-phase monthly outreach, which works towards PR than SEO companies. From creating strategies to prospecting, content creation, outreach, link building, response handling, and monthly reporting. The main focus is always on link building and evolving Google ranking algorithm.


Here is the link building approach of OutreachMama
It works to improve diversity on your link profile. Such as, specific blog outreach, resource page links, specific blog outreach along with getting placed on articles that are linked to your competitors.

With a monthly traffic of 1000 and a DR of 70, are proof that they have done great work on their own SEO and also can help you.
Get in touch:
OutreachMama offers both one-packages along with recurring packages through their dashboard. You also can place a custom order by providing some details, like niche parameters, content length, and content review.
4. Heroic Search
Heroic search is focused on manual outreach and relationship building. They have developed an effective connection with editors, bloggers, journalists, and some other agencies. This makes them one of the best blogger outreach service agencies. With these connections, they make sure that their clients get high-level links even for complex assignments and niches of blogger outreach service.
With their outreach program, Heroic offers
Free content creation from their in-house staff

Relevant link buildings

Contextual and followed links

A transparent methodology and tactics

Dedicated account managers

Regular detailed reporting

They offer services in 3 phases and they are
Research And Strategy:

In this phase, they evaluate your overall backlink profiles to see what improvements are needed. They also research your competitors to identify their weaknesses along with the opportunities you can exploit.

Prospecting And Outreach

:

In this process, they create a long list of potential prospects and filter the websites with high domain authority, relevant niche, and high organic traffic.

Link Placement And Rapport:

This is the ultimate negotiation stage. In this stage, they convince those prospects to agree with the link placement and build a strong relationship.
Get in touch:
You can fill up an online basic questionnaire form with details like your name, email id, how many links you want along with the link building tactics of your choice.
5. OutreachPete
This belongs to the topmost blogger outreach service provider. They offer blogger outreach solutions like guest posts without footprints. Based on the publication's size, OutreachPete gives you links that are completely native and posted as a regular author or site owner. Most of the posts are featured on the homepage and shared on social media to get a good amount of page likes.
There are several benefits that OutreachPete offers. Such as
They use a relevant site with a niche-relevant post and publish the link there to ensure the best performance. A designated team works hard on building new connections and new blogs to work with.
OutreachPete gives a guarantee that each site they are working with has organic traffic. While thinking about link building organic traffic is the best metric to perform. TF, DA, DR, and any other metric comes after organic traffic.

They do not mug multiple clients, which may create dangerous footprints and also dilutes your value.
In case you have taken the monthly subscription, you will get an account manager, who will work with you every month. This way, that person will get to know your needs and preferences and will make sure that they are fulfilling them.
Again, with your monthly subscription to OutreachPete, you will get a report on your branding as well as your client's branding.
NDA comes with all its services.
Get in touch:
You can sign up to their dashboard and select the plan or subscription you want to go for. You also can upgrade to the monthly subscription plan. In case you have any queries apart from the order packages, you can get a ticket from the order dashboard. You will get a quick response from their team.
6. Ninja Outreach
It is one of the best blogger outreach service companies that is totally focused on influencer marketing campaigns. To find you the right influencer that will attract your audience, Ninja Outreach filters millions of influencers from social media platforms, specifically Youtube and Instagram.

Ninja Outreach helps your business in several ways
They have a rich influence database. You can search for influencers of social media platforms as per your niche from the search bar on Ninja Outreach's website. You will get a list of influencers with their profiles and email addresses.

To reach the right followers they also use various tools.

With the built-in CRM of those tools, you can manage your marketing and outreach campaigns. You also can hire their experts' team for your influencer marketing. This will help you with quality link placements and will increase your website's search engine visibility.
Get in touch:
Before signing up to their website, get a piece of detailed knowledge about their pricing policies and the services that you want.
7. Stellar SEO
Being a digital marketing firm, Stellar SEO offers a wide range of blogger outreach services. This covers blogger outreach, influencer marketing, content marketing, social media marketing, and also guest posting. They can help you create authority around your particular niche, more social media shares along more appropriate brand awareness.
Stellar SEO is known for:
Powerful outreach campaigns, personalized approach, quality links are the main focuses of Stellar SEO. so, it can give impressive results to the business owners, who are already messed up with other link building agencies.

Their blogger outreach service is perfect for small businesses and agencies. They are very careful while selecting the authority sites to do successful guest posts and for future use create a long-term relationship with the bloggers.
Get in touch:
You just need to fill a consultation request form with some details such as your name, website URL, phone number, and what help you want from them.
8. BibiBuzz
A solopreneur with mastered skills in building diverse, niche relevant, natural link profiles runs BibiBuzz. The link building procedure of BibiBuzz involves
A one to one discussion with the owner about your particular needs

Content auditing

Competitor analysis

Prospect list creation

Content ideation, only where it is needed

And finally, outreaching for ultimate guest posting services


Though the main strategy of blogger outreach service is especially guest posting, the owner has the ability to adapt your desired campaign and arrange the process for you. The reason behind its best performance is a project tracker, that allows the clients to know the progress of the outreach program.
Get in touch:
Get in touch with BibiBuzz is too easy, you can simply use the contact form to discuss your desired project.
9. Outreach Monks
Outreach Monks is on the list of best content marketing and link building service providers. It is well known for its Local SEO, white label link-building along finding websites with high authority to place your guest post. It does not matter whether you are an agency or a new business, Outreach Monk will help you in increasing the Google rankings, reach your preferred blogger, and also gaining organic traffic to give blogger outreach service
Outreach Monk follows two approaches
For new bloggers, it has custom outreach models.

Use guest posts on those blogging connections which are already established
Outreach Monk ensures impressive monthly organic traffic, DA, DR, TF, RD, and CF. At the time of availing of outreach services, you can give your desired choice of websites for which you want to do the pitching for you.
Get in touch:
You can easily place your custom orders on their dashboard. You also can fill their contact form, in case you have any doubts.
10. Forward Linking
Forward linking has gained popularity due to the authoritative and niche relevant sites that they offer to their client. High-level organic traffic, better search engine rankings, increased brand exposures are the result of it.
They always stay up to date with the latest digital marketing trends and search engines. They offer relevant, personalized, transparent, long-term and ROI-focused outreach strategies to provide excellent blogger outreach service.
Forward Outreach works in three-phase, and they call them, pre-launch, launch, and lastly post-launch
The pre-launch phase
Website analysis

Content selection

Selection of keyword

Link building strategy
The launch phase
Project management

Prospecting

outreach
The post-launch phase
The ultimate result and its analysis
Get in touch:
you can write directly to them to the email address that is provided or fill up the contact form.
11. LinkBuilder.io
LinkBuilder holds 1000 traffics every month and a domain rating of 34. This blogger outreach service company offers link builds that will stand the test of time, grow brand traffic along with brand awareness.
Here are the phases that LinkBuilder follows
Strategic evaluation: They analyze and determine the content and strategy that they will follow for a specific client. They also develop an outreach persona.

Prospecting: In this phase the team search for contact information, opportunities to link along with personalized contacts.

Outreach: All you need to create a good email template before reaching to people.

Relationship development: In this stage, to earn links, they work on building trust and nurturing relationships.

Tracking and Optimization: In this phase, LinkBuilder tracks links, measures results, and also do white label reporting to the clients. After that, they start to plan for the future.
Get in touch:
Based on your requirements, set up a custom order. Then you will get access to the dashboard to manage your account.
Verdicts
In this article, we have mentioned the best blogger outreach service, providers. Due to their outstanding services, they are on the list of top blogger outreach service companies. But that does not mean that you can go blindly for any one of these. Every business demands different kinds of blogger outreach requirements. Based on your requirements, you can go through the packages that these companies are providing and select the most suitable one.
Also Read: