Link Building For News Websites: Enhancing SEO And Traffic
This article will dive deep into link building for news sites, revealing the keys to boosting SEO and website traffic.
With a sea of content on the web, news publishers face increasing competition. Our goal is to equip you with the knowledge and strategies needed to boost organic traffic to your website.
Regarding SEO, nothing beats obtaining top-class backlinks from highly authoritative news sources.
You Can Benefit From This Type Of Backlink By Increasing:
Your brand's visibility.
Driving traffic to your website.
Enhancing your local SEO as well.
Here's what high-quality backlinks look like:
✅ They occur naturally. ✅ They are relevant. ✅ They hold substantial value.
Most reputable news outlets enjoy high authority and public trust. Google deems backlinks from authority sites as exceptional when they come from reputable news sites.
It's time for you to incorporate targeting news websites into your link building strategy. Gain substantial exposure for your business and develop a backlink profile that Google loves.
So, are you ready? Let's begin!
The Importance Of Link Building For News Sites
When you strategically acquire inbound links from reputable sources, it enhances your visibility in SERPs.
Hence, it attracts more visitors. Ultimate increase your readership. So, let's start.
1. Improved Search Engine Rankings
Search engine results pages (SERPs) may rank your news site higher the more high-quality backlinks it has. As a result, news outlets aiming to reach a broad audience will receive more organic traffic.
2. Build Meaningful Connections
Additionally, link building helps news websites connect with other journalists and influencers. To validate their claims and provide context, news organizations use external links.
In order to deliver accurate news, news websites collaborate with professionals who share the goal of link building.
3. Enhanced Credibility And Trustworthiness
When reputable websites in your niche or industry link to your news content, it signifies trust. Search engines like Google interpret these backlinks as endorsements of your credibility and expertise in your field. As a result, your news site gains higher credibility in the eyes of both search engines and readers.
4. Increased Organic Traffic
Backlinks not only bolster your SEO efforts but also bring in direct traffic. Users who click on these links from other websites are directed to your news articles. The influx of organic traffic will boost your readership, subscriptions, and advertising revenue.
5. Establishing Thought Leadership
Backlinks are a way of showcasing your news site's authority in your niche. References and links to your articles reinforce your position as a thought leader and influencer.
Link-building strategies not only drive traffic but also contribute to the growth and sustainability of news websites. Additionally, these platforms can increase their digital reach by establishing relevant partnerships.
Understanding SEO For News Sites
News websites need SEO to drive organic traffic. Start with keyword analysis.
Identify terms and phrases users are searching for. Keyword Planner and Google Trends help news websites align content with popular searches.
Next comes optimization. Optimize images with alt tags and incorporate relevant keywords into headlines and subheadings. SEO practices such as these can improve news websites' visibility.
For news websites, off-page optimization involves building high-quality backlinks from authoritative sources. Links from other sites increase a news website's credibility and trustworthiness in search engines' eyes. Guest blogging, partnering with journalists, and obtaining reputable publications' mentions significantly boost a news website's SEO.
Utilizing Guest Blogging For Link Building For News Sites
Guest posting for news sites involves creating informative, reader-focused content to maximize your SEO link building efforts and brand exposure.
1. Identify Relevant News Sites
Start by identifying news websites that align with your niche or industry. Choose platforms that accept guest posts and have a readership that matches your target audience.
2. Research And Create Quality Content
The cornerstone of successful guest blogging is creating high-quality content. Craft articles that are not only informative but also unique and engaging. Offer valuable insights, statistics, and solutions to the readers' problems.
3. Contact Editors
Reach out to the news site's editorial team or content managers. Ensure your initial contact is professional and concise.
4. Pitch Your Idea
In your pitch, clearly outline the topic you intend to write about and explain why it's relevant and interesting to the target audience of the news site. Keep it concise while conveying the value of your proposed article.
5. Write In The Second Person
When composing your guest post, adopt a reader-centric approach by using "you." This personalizes the content and engages readers more effectively.
6. Include Backlinks Strategically
Within your guest post, strategically incorporate non-promotional backlinks to your news site. These links should seamlessly integrate into the article's context, offering additional information or resources.
7. Build Long-Term Relationships
Foster ongoing relationships with the editors and teams at news sites where you've contributed. Consistently deliver high-quality content to establish yourself as a trusted contributor.
Types Of Links For News Sites
Each type of link serves a unique purpose and contributes to a news website's overall visibility and authority.
1. Editorial Links
These are the holy grail of link building for news sites. Editorial links are natural, earned links that come from high-quality sources such as reputable news outlets, industry influencers, or authoritative blogs. They are considered highly valuable as they indicate trust and recognition from credible sources.
2. Social Media Links
In today's digital landscape, social media is pivotal in link building for news sites. Shared articles on Facebook, Twitter, or LinkedIn can generate organic traffic. Additionally, social media signals can positively impact search engine rankings.
3. Guest Post Links
Guest blogging is an effective strategy for building links for news websites. High-quality articles can help news sites earn contextual backlinks that drive traffic and boost SEO.
4. Internal Links
Often overlooked but equally important, internal linking involves linking to other pages within a news website itself. This helps users navigate through different articles and strengthens the overall site structure while distributing link equity.
Leverage HARO To Build Relationships With Influencers And Journalists
What is HARO? It stands for Help a Reporter Out. HARO is a platform that connects journalists with sources for their articles. It offers an opportunity for businesses to provide an expert opinion on topics they are knowledgeable about. This helps businesses to build backlinks that can help them improve their SEO and visibility.
1. Visit HARO A Website
Go to a HARO website and choose the sign up as a potential source for reporters and writers.
2. Choose Your Subscription Type
Select the subscription plan that aligns with your needs. HARO offers both free and paid options. In fact, paid plans provide additional benefits, such as faster email delivery of queries.
3. Monitor Reporter Requests
Once you're registered, keep a close eye on the daily emails from HARO containing queries from reporters and bloggers. These queries will be related to various topics, and you'll want to find ones that align with your expertise.
4. Craft A Compelling Pitch
When you come across a query that fits your expertise, it's time to send a pitch to the journalist or blogger.
Here are some key factors to consider when crafting your pitch:
(i) Be Quick: Pay attention to the query's deadline and respond promptly.
(ii) Engaging Subject Line: Use a subject line that summarizes your pitch effectively.
(iii) Readable Format: Ensure your pitch is easy to read and skim through, with shorter sentences and no duplication.
(iv) Unique Insight: Provide a unique and valuable idea or insight related to the topic.
(v) Avoid Google: Never rely on Google to formulate your responses; provide original and well thought out content.
Best Practices For Link Building For News Sites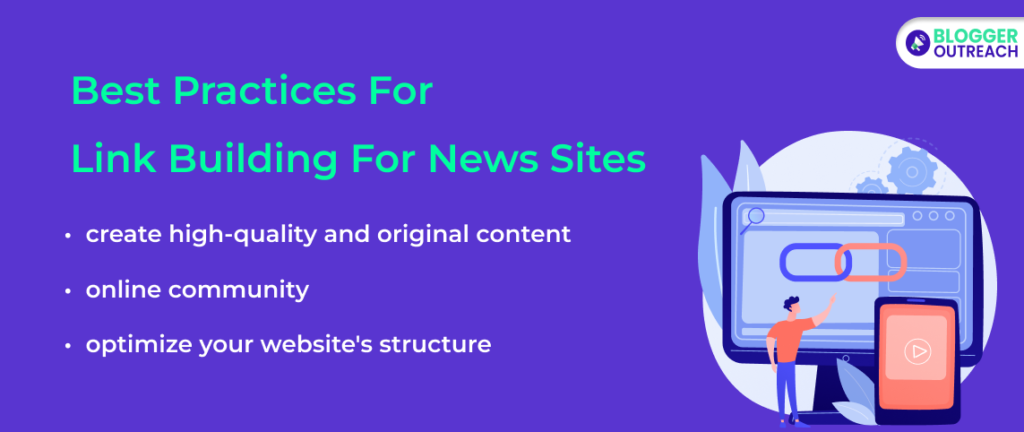 Are you enjoying this article? At this point, you already have an idea of link building for news sites.
Before we wind up this article, we want to add more on this.
When it comes to link building for news sites, several best practices to enhance your SEO and drive traffic to your site.
These are:
Firstly, create high-quality and original content. Provide valuable and unique articles to improve your chances of getting linked to. This improves your search engine rankings. Plus, it establishes your website as a trustworthy source of information.
You can also engage with the online community by sharing insights on relevant topics. Contribute to forums, comment sections, and social media platforms to build relationships with influencers and journalists.
Lastly, optimize your website's structure for easy navigation. It helps both readers and search engines. Ensure that your internal linking strategy is solid by interconnecting related news articles within your website. This helps search engines understand the significance of each article.
Link Building For News Sites Made Easy!
Refrain from depending on news outlets to build links from news sites. There are other effective and meaningful ways to do it.
At BloggerOutreach, we ensure quality link building from authority sites. These links are highly effective in boosting your ranking.
Would you like to get those coveted links for your news site?
Read More: