Blogger Outreach Strategy: The Best Strategy To Grow Your Business Online
There are many ways of growing your business online. In my opinion, Blogger Outreach Strategy has emerged as one of the best methods that brands are using to make their presence felt.
In this article, we will try to discuss some important questions on BloggerOutreach Strategy-
What is the meaning of the Blogger Outreach strategy?
How can a blogger outreach strategy service help my brand to grow?
How do you establish relationships with bloggers?
What is the transaction method- payment, product, or anything else?
What role do sponsored content platforms and guest posting services play?
Is Blogger Outreach Service a White Hat strategy?
It goes without saying that millions of brands all over the world are availing of blogger outreach strategy services. They are doing this as this has a direct impact on their business.
If you are not doing blogger outreach or do not have a strategy in place, trust me, you are falling by the wayside.
Blogger Outreach strategy is all about engaging with online influencers to build relationships. This relationship, in turn, makes bloggers write and publish about your brand or product on their-
Blog Site/Website.
Social Media Pages (Facebook, Instagram, Snapchat, Twitter, LinkedIn).
Reach out to their subscribers through email marketing or newsletters.
Physical Event Promotions (if you want to do that).
In this era of social media and Generation Z, bloggers and blog sites are emerging as credible platforms. The sheer volume of influence that bloggers have on the internet makes it difficult for brands to ignore them.
Benefits Of Blogger Outreach Strategy
Over the past couple of years, I have seen a rather positive trend. Many brands who were shying away from Influencer Marketing are adopting a proactive approach to the same.
As a new publisher who is looking to monetize their blog, it is necessary that you connect with the relevant advertiser platforms and list your site.
This will allow you to make money blogging. You need to pay attention to your site's metrics (DA, DR, and Spam Score) and traffic figures. If your metrics and traffic are decent enough, you will start getting Guest Posting Services, and Blogger Outreach offers.
For instance, earlier, when I would discuss a digital marketing strategy with a client, a blogger outreach strategy would figure towards the end. However, now the first thing clients want to know is what bloggers we can work with and on which platforms.
The question that arises is- why has this shift taken place?
This shift has taken place as more and more consumers are moving away from ATL advertising. As millions come on board the internet, they need advice, guidance, and direction.
This is why a blogger outreach strategy has become the most important digital marketing strategy for agencies or brands.
A Robust Blogger Outreach Strategy Service Guarantees Benefits Like-
Increased traffic to your website.
New customers
Boosts Product Sales
Improves Brand and Product Credibility
Having a huge online presence.
In my experience of working with the most influential bloggers in the industry, I have noticed one big trend.
Good bloggers care about relationships. If you are able to establish a good relationship with one, chances are it will last.
I once had a client who wanted to engage with a blogger on some product reviews and guest posts.
The blogger did what was required according to the contract. In addition, as a matter of good faith, he reached out to 100,000 of his fans through email marketing. The impact was that over 1500 of his fans bought the product because of the email.
Things I have seen in this industry!
Nail Your Blogger Outreach Strategy With The Following Steps
You can gain exposure and grow your online presence by building relationships with influential bloggers in your niche.
1. Finding The Opportunities: Look For Relevant And Influential Bloggers In Your Niche
The first step in creating a successful blogger outreach strategy is identifying and categorizing the bloggers you want to connect with. Start by making a list of all the relevant bloggers in your niche. To make this process more manageable, divide them into two tiers:
Tier-1 Bloggers: These are the top bloggers and influencers in your niche, those with a massive following and a strong online presence.
Tier-2 Bloggers: This category includes bloggers who may not have the same level of popularity as A-list bloggers but still garner many comments, social shares, and engagement on their posts.
Your goal is to have a list of at least ten bloggers in each category, resulting in a list of 20 bloggers in total. Instead of rushing into outreach, focus on one blogger at a time. Remember that a slow and steady approach tends to yield better results.
2. Building Rapport With The Publishers & Bloggers Will Pay You In The Future
Once you've identified a blogger you'd like to connect with, it's time to initiate and cultivate a relationship. Building these connections is essential to avoid being spammy or insincere in your outreach efforts. Here's a step-by-step process to establish strong relationships with other bloggers:
Leave Blog Comments: Read their blog posts thoroughly and leave thoughtful comments. These comments should demonstrate your genuine interest in their content and open the door for further conversation.
Send An Email: Reach out to the blogger via email, but do not ask for links at this stage. Use the email as an opportunity to express how much you enjoy their blog posts. This initial contact should be about building rapport.
Request A Review: Once the relationship has progressed, consider asking for a review of your website or a product you're promoting. Continue to link to the blogger's posts and notify them when you do so, reinforcing your commitment to their work.
Ask For A Mention Or Link: If you've published high-quality content on your blog, politely request a mention or link from the blogger. Emphasize how their audience will benefit from the connection, whether through valuable content or social media exposure.
This process forms the foundation of a successful blogger outreach campaign. The key takeaway is to prioritise genuine connections over immediate link requests. Be genuinely interested in offering assistance and value to others first.
3. Measure Your Success, Rinse, And Repeat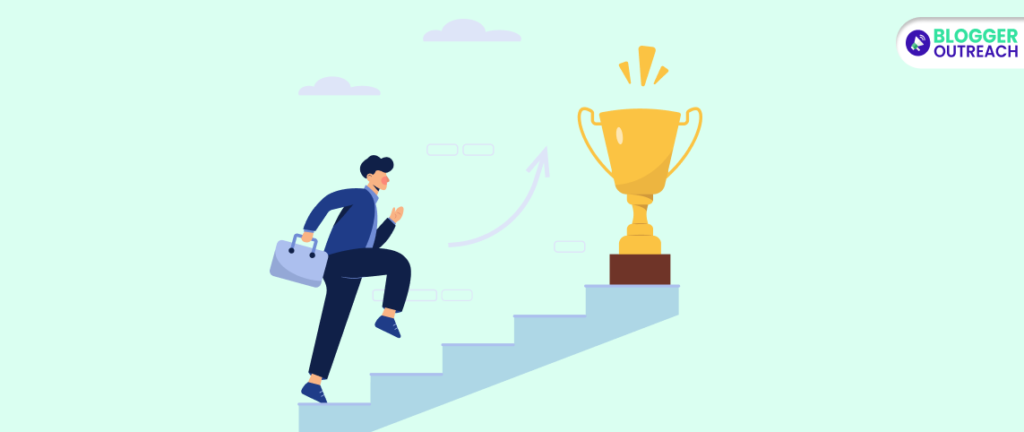 As you engage with bloggers and they begin to link to your blog posts or share your content, it's essential to measure your success. Track the number of comments, visits, and overall engagement your blog receives after each interaction. This data will help you identify which bloggers provide the most exposure and value to your posts.
Think of blogger outreach as an ongoing process rather than a one-time task. As you continue to build connections and network with bloggers, you'll naturally attract more attention, traffic, and valuable links to your blog. Consistency is key to success in this endeavour.
Follow-up: Some bloggers are incredibly busy and may not respond to your initial outreach. In such cases, don't be discouraged. Give it some time, and then follow up with a gentle reminder. A well-timed follow-up often yields a positive response.
Now, let's address an essential aspect of blogger outreach – finding the email addresses of fellow bloggers.
Hack To Find Blogger's Email Addresses
Finding blogger email addresses can be a time-consuming task, but it's worth the effort.
(i) Check The Blogger's Website: Start by visiting the blogger's website and look for a "Contact" or "About" page. Many bloggers include their contact information, including email addresses, on these pages.
(ii) Social Media Profiles: Most bloggers are active on social media platforms. Check their social media profiles, such as Twitter, Instagram, or LinkedIn, where they might have their email addresses listed in the bio or contact information sections.
(iii) Use WHOIS Lookup: You can perform a WHOIS lookup on the blogger's domain name to find the contact details associated with the domain registration. This might include an email address for administrative or technical purposes.
(iv) Outreach Forms And Comment Sections: Some bloggers have forms on their websites for outreach purposes. You can submit your request or inquiry through these forms. Additionally, you can look for their comments on other blogs where they might leave their email address.
(v) Email Hunter Tools: Some online tools like Email Hunter, Snov.io, or Voila Norbert can help you find email addresses associated with a domain name. These tools can be useful when the email address is not publicly available.
(vi) LinkedIn: If the blogger has a LinkedIn profile, you can connect with them on the platform and send a message expressing your interest in collaboration. If they accept your connection request, you can request their email address.
(vii) Professional Email Outreach: If you can't find an email address through public sources, you can send a professional outreach message through social media or their website contact forms. Be respectful and concise in your message, explaining the purpose of your contact and your intentions.
Link Building Through Blogger Outreach Strategy
There is an intricate connection between link building and blogger outreach. Link building is one of the services under the framework of blogger outreach services.
If done effectively, link building can open up a host of positive possibilities for your brand. Simply put, link building entails-
Creating a wonderfully written piece of content.
Publishing it on a reputed blogger's website or blog.
Having one or two in-content backlinks to your own website.
Riding on the traffic of the blogger's website.
Increase your website's SERPs.
This all sounds good, but why will anyone let you post your content and link on their own page?
This is where effective blogger outreach and community outreach come into the picture. By establishing good and genuine relationships with bloggers, you can convince them to publish your content and links.
This is not as easy as it sounds and involves some rules or guidelines. For working with the ideal publisher, the following guidelines might apply. (P.S. We are writing about the best bloggers, and they have high standards of what content goes on their pages).
100% original and long format content (1500+ words).
SEO-friendly articles.
Proper keyword research.
Structured and WordPress Optimised.
Informative, Fun, Educational (whatever the niche).
It is only if your article passes their strict quality guidelines, will they publish it on their site. In exchange for this, they might ask for monetary payments, free products or services, or link exchanges.
Link building is a sure-shot method to gain access to an entirely new target audience for your brand. If you are able to do effective community outreach, blogger outreach, and link building will be a breeze for you.
Problems Of Doing Blogger Outreach Manually
The above sections might have given you a good idea about the benefits of blogger outreach. However, a blogger outreach service is not an easy method to execute.
There are many that you might experience when it comes to guest posting or blogger outreach services.
For starters, having a full-fledged blogger outreach strategy is an immensely time-consuming process. It needs a lot of time, effort, and energy. Not all brands can allocate a separate person to do this.
If you do the community outreach, it means negotiating, sending emails back and forth, and haggling over the finer nuances. Brands and businesses simply do not have the time or the resources to cement a relationship with a blogger.
However, what I have found is that unless you are a Nike or a McDonalds, bloggers simply do not trust brands.
This deficit in the trust factor is a mutual thing, with brands and clients also not trusting bloggers. If I could count the number of times brands and bloggers have made complaints, I would be a millionaire!
To sum up, some of the biggest problems of doing blogger outreach manually are-
It is a time-consuming process.
Negotiations are endless.
There is always a trust deficit.
It becomes much more expensive (a direct one-on-one relationship).
You would not be able to fix accountability.
Doing manual blogger outreach becomes a big problem for brands and businesses. Yes, they know about what benefits they can reap; they just do not know how to go about it.
Benefits Of Doing Blogger Outreach Strategy Through Agencies And Platforms
I tried to come up with some problems that you will face doing manual blogger outreach, and community outreach. These problems are real, complicated, and will drain your resources. However, there is an easy way out.
If you want to optimize your returns, going through agencies and platforms is the best way forward. A successful blogger outreach strategy has, at its foundation, a great agency that can help.
If you are using a platform or an agency, your task becomes infinitely easier. Agencies and platforms work hard to create endearing relationships with bloggers. That is their main job! Period.
If you are smart, you can use their goodwill and relationship to extract the maximum benefit for your brand.
Working With Agencies For Blogger Outreach Services Is The Best For Many Reasons-
Agencies do all the research and foundation work for you with the bloggers.
Agencies give regular business, so it is tougher for bloggers to go back on their promise of delivery.
Bloggers would not want to sour their relationship with agencies that give them regular business.
Agencies do all the vetting work before they start working with bloggers.
As agencies give bloggers regular work, money-wise, bloggers compromise and lessen their fees.
Agencies have the resources to pay for tools to check the health of a blogger's site. (Ahrefs, Moz, etc).
It is easy to fix accountability to agencies and platforms if there are problems that arise.
A brand can use an agency to help with add-ons, like email marketing, social media sharing, newsletters, and so on.
You deal with one partner and not many- bloggers, content writers, publishers, etc.
Working with agencies and platforms on blogger outreach streamlines the process. It also offers the best returns for clients and businesses.
Blogger Outreach Services: What You Should Ask Your Agency?
One of the biggest advantages of working through agencies is optimization. This optimization stretches from services to payments.
If an agency has a good relationship with a blogger, you might get some extra add-ons. You might enlist an agency for just an article or a content piece for blogger outreach.
However, You Should Ask Them For The Following As Well-
Will I also get social media sharing through blogger outreach or community outreach?
What about link building Techniques?
Will the blogger share my content through his Newsletter Subscription?
What about sharing my content and links on multiple platforms?
What about doing a product review for his YouTube channel? (that has 50k subscribers)
Is there a possibility of email marketing as well?
If you are looking for the entire package, you would be looking at a long fee list. A good agency might be able to throw in one or two services 'free'.
An agency would be able to do this as they have built a long-standing relationship with the blogger. However, for a brand doing manual blogger outreach, this might be impossible to do.
Many innovative platforms are coming up where you can choose your requirements affordably. This ensures transparency and helps you just place the order after they have done the background work.
The Future Of Blogger Outreach Services
If your brand has not yet ventured into blogger outreach, trust me, you are missing out. Blogger Outreach is here to stay for a very long time.
As more and more people are using the internet, it would be foolish not to get on board. People are looking for influencers to help them choose products and services.
As many as 8 out of 10 people, who frequently use the internet, read online reviews before buying a product. This statistic is just going to rise in the future.
Bloggers, social media influencers, and reviewers are becoming famous by the day. As compared to traditional brand ambassadors, they are different, and in my opinion, more useful.
From travel to cell phones, from cars to hotels, blogger outreach has helped revive and make a great many brands.
Blogger outreach services are going to rise also because of Generation Z. This generation has been termed as 'social media natives.' As compared to millennials, who were termed as 'digital natives,' Gen Z is always online! Yes, always.
They look for communities that reflect their interest and aspirations. Bloggers build those communities. Agencies help you connect with those communities.
For brands, it is a win-win situation. You not only get authentic exposure in front of your target audience, but you also get-
Great SERPs
Link building facilities
Sales conversions
Credibility
Publicizing the brand's voice and identity
Blogger Outreach Strategy: The Final Word
The digital ecosystem is ever-expanding as more and more actors are starting to play a pivotal role. Over the last year, my clients have put nearly 60 per cent of their marketing budget into digital marketing.
There is a demand for newer digital marketing offerings, and Blogger Outreach is one such credible offering. By staying ahead of the curve, brands can benefit immensely from a successful blogger outreach strategy.
When I have to convince clients about why they should go for a blogger outreach approach, I say-
Blogger Outreach strategy becomes a complete 360-degree digital marketing strategy for your brand. It helps you with-
SEO
Link Building
Traffic
Sales
Marketing
Promotion
Public Relations.
The future is digital. For brands, the only choice remains whether they want to evolve with the future or perish by ignoring it.
I have had brand and marketing managers refusing to try out a blogger outreach strategy. They kept refusing for the last two or three years. However, come 2024, these same guys cannot stop gushing about the benefits of blogger outreach for their brands.
If you want to know more about blogger outreach or connect to communities, drop me an email at [email protected].
Read Also: