How To Disavow Backlinks The Right Way?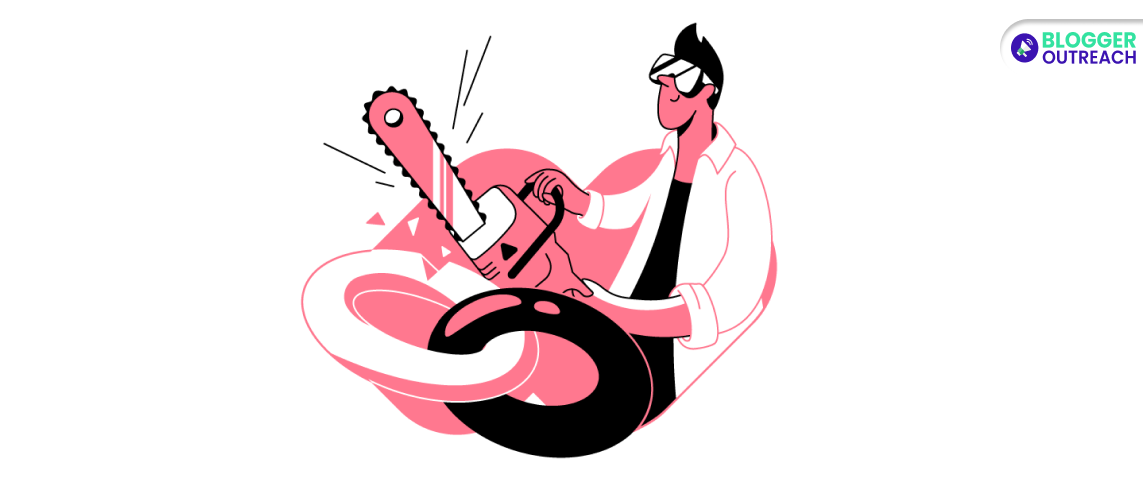 Are you wondering how to remove unwanted links? 🤔
While backlinks boost your site, low-quality ones can hurt your rankings. Disavowing Google, it tells Google to ignore these links.
Eliminating spammy links helps your site and prevents penalties. In this guide, we will teach you about disavow backlinks.
You Will Get To Know:
What are they?
When to consider disavowing backlinks?
What are toxic backlinks?
Disavow tool.
When not to disavow backlinks.
Finding backlinks to disavow.
How to disavow backlinks in the Google search console.
Discover the what, when, and why of disavowing links. Unravel its necessity with ease.
If disavowing backlinks crosses your mind, read on.
What Are Disavowing Links?
Consider removing unnatural links that are hurting your site's health and overall reputation.
Now you are wondering – what is the manual penalty?
If removing them proves challenging, or if you can't secure their removal by considering…
…using the disavow tool for questionable page or domain URLs linking to your website.
So, what's the deal with disavowing a backlink? It's when you request Google to overlook specific links pointing to your website. If Google approves the disavow, these links won't influence your search ranking – positively or negatively.
When To Disavow Backlinks?
There are a few reasons why you need to disavow backlinks. The most important among them is…
1. Manual Google Penalties
You will likely face a manual penalty if you do not comply with Google's spam policies. It's a clear sign that disavowal may be necessary. Google may penalize your site's ranking for having such links.
Hold on! There are other reasons to disavow backlinks. These are:
2. Identification Of Harmful Links
Disavowing backlinks becomes crucial when you've identified links that are harming your website's credibility and ranking. These harmful links can come from sources like link farms, spammy directories, or low-quality websites.
3. If You Suddenly Experience A Decline In Website Traffic Or Rankings
Search engines may penalize your site due to improper link-building practices that violate their guidelines. You should be cautious, especially if your link profile appears dubious, as this could be the reason behind the drop in your rankings.
It's also a good idea to consider whether any algorithm changes have occurred or if your competitors have enhanced their websites, attracting your traffic.
Remember, Google views your requests as suggestions, not obligations. Why would you want Google to disregard certain links?
Because not all backlinks are created equal, most are beneficial, acting as endorsements from other websites. However, some links can potentially harm your ranking.
What Are Toxic Backlinks?
Bad or toxic backlinks are typically unnatural, with exceptions. Common culprits include mass-purchased links from questionable SEO sites and intentional link schemes utilizing private networks (PBNs). Here are Google's guidelines on "link schemes."
Let's Introduce The Google Disavow Tool
The Google Disavow Tool, available within the Google Search Console, empowers website owners to "disavow" specific backlinks to their site. While it's part of the Google Search Console, it's not prominently displayed there.
Get access to the Google Disavow tool here.
This tool lets site owners flag spammy or "unnatural" links.
The Process Involves:
Listing external links (from tools like Semrush or Ahrefs).
Creating a text file with links to disavow.
Upload it to Google's Disavow Links tool.
This aims to shield your site from negative ranking impacts.
Remember, it's an advanced tool meant for cleaning up after manual actions or penalties.
Using it Randomly can potentially harm your site.
When Not To Disavow Backlinks?
Be mindful! Disavowing links without cause can harm your site; it's not standard practice. Simply identifying low-quality or "toxic" links during an audit isn't a reason to disavow.
Speculative prevention isn't needed; Google algorithms already identify and ignore spammy links.
The Google Disavow Tool is a last resort for severe unnatural link penalties.
Using it casually without a valid reason can harm your site. Expect some low-quality links; it's normal and doesn't require disavowing.
1. Beware Of Misusing The Disavow Tool
The Disavow Tool has its significance, yet mishandling it poses substantial risks. Let's delve into the key perils to keep in mind.
2. Disavowing Links Without Penalty Can Harm Rankings
Indiscriminate disavowals, lacking evidence of harm, may neglect valuable links, thereby impacting your rankings. Disavowing entire domains in a hurry can cause problems.
We've witnessed numerous instances where site owners disavowed hundreds or even thousands of domains.
3. Difficulty In Rectifying An Erroneous Disavowal File
A poorly constructed disavowal file can potentially harm your site's Google search performance.
Here Are The Dangers To Note:
Even if you correct a faulty disavowal file, the repercussions of disavowing valuable links may persist for weeks or months.
Google requires time to re-crawl previously disavowed URLs and reprocess signals. Immediate reassessment doesn't occur.
There's no guarantee that your site's prior performance will fully recover after fixing a flawed disavowal file. Lingering effects are possible.
Arbitrary disavowal of numerous links without justification might appear manipulative to Google's algorithms.
Finally, careless, overly aggressive disavowal files can cause lasting, difficult-to-reverse damage. It will potentially impact search performance permanently.
The Best Ways To Find Backlinks To Disavow
Before disavowing backlinks in the Search Console, choose which links to disavow and organize them into a text file.
Here are your two options for disavowing backlink sources:
1. Disavow Specific URLs
Target a particular URL to disavow links from that page. For instance, disavowing site.com/spam-post removes links from that page but not from site.com/cool-post.
2. Disavow Entire Domains
Target the whole domain to disavow all links from that site. For example, disavowing site.com removes all backlinks from site.com, including site.com/spam-post and site.com/cool-post.
Remember, you cannot disavow sub-paths – your choices are individual URLs or entire domains.
To Locate Specific Pages And Domains For Disavowal, Use SEO Research Tools Like:
Ahrefs Backlink Checker.
Semrush Backlink Audit.
Moz Link Explorer.
WebCEO Toxic Link Checker.
These tools allow you to view your site's backlinks and filter for unwanted ones. You can directly remove links from a single domain on Google without a tool.
How To Disavow Backlinks With The Help Of Google Search Console?
By now, you understand how to find spammy links. It's time to teach you how to disavow backlinks.
Key Considerations Before Disavow Backlinks
Things to Consider Before Using the Disavow Tool.
Before delving into the Google disavow tool.
There Are Crucial Aspects To Keep In Mind:
Uncertainty Of Harmful Links: It's challenging to pinpoint which links are truly harmful, as some may actually boost your rankings.
Potential Alerting To Past Practices: Submitting a disavow file could signal Google about past questionable link-building practices, impacting your entire backlink profile.
Uncertain Benefits And False Attribution: The benefits of disavowing backlinks are uncertain and hard to test. New content, competitors, offline marketing, or Google Core Updates might all affect improvements.
Difficulty In Proving Causes: Determining the cause of ranking changes is complex, making it hard to attribute them to specific actions.
In summary, approach the disavow tool cautiously. Well, now let's start from
Step#1 – Create The Disavow Backlink File List
Here's the simple step-by-step process to it…
Start with a Simple .txt File: Use a basic text editor to create a .txt file.
List Pages and Domains: Add the pages or domains you want to disavow on separate lines in the .txt file.
Be specific about the format: You should use UTF-8 or 7-bit ASCII encoding for the URL or domain list. Plus, one domain or URL per line is something that you need.
🟣Prefix Domains: If you're disavowing domains or subdomains, start each line with "domain:"
🟣Add Comments: Include any comments by starting a line with a hash symbol (#). Google will disregard these lines.
🟣Keep The URL length In Mind: The URL length must not exceed 2,048 characters.
🟣Size Limit: An individual disavow file can contain up to 2 MB of data and 100,000 lines, including blanks and comments.
Step#2 – Upload The .txt List
To submit the disavow file effectively, follow these user-friendly steps:
🔗Access The Disavow Links Tool: Click here for the Google Search Console disavow links tool.
🌐Choose Your Website: Select your website ("property") from the provided drop-down menu.
✔Upload The Disavow List: Click the "Upload Disavow List" button to upload the Disavow backlinks file you created.
✔View And Complete: Once uploaded, your links will appear in the interface, completing the
process.
If you've disallowed backlinks previously, this new list will replace the old one.
Disavow Backlinks – Do It The Right Way
Disavowing it's like differentiating between the right and wrong.
Regarding this, one important aspect is – staying away from dubious link resellers. Many service providers might convince you to pay for disavow files or link analysis. The truth is many sites never need the Disavow Tool.
This is where reputable SEO agencies come in. They won't recommend blind disavowals.
Guess what? BloggerOutreach is one of those few SEO service providers.
We Build High-Quality Backlinks That Come With The Following:
Valuable content (E-E-A-T compliant).
Garnered from quality sites.
Original and SEO-optimized.
100% Indexation rate.
As a result, links built with us do not require disavow tools.
Talk to our experts if you are interested in attracting valuable niche backlinks (with immense SEO benefits).
Read Also: