Can Guest Posting Act As Part Of Your Sales Funnel?
Are you seeking to increase your business revenues?
Well, Guest blogging can give you all these benefits.
Guest posting is about creating quality content and posting it on each other's websites.
There are legions of methods you can use within your marketing campaigns to accomplish your goals strategically. Guest post marketing is one of them, where you can create and publish articles on various blogs across the internet.
These usually tend to be promotional posts about your company and products. In this article, learn more about guest post marketing and how guest blogging can be fruitful for SEO purposes.
You'll also learn about the role of guest blogs in increasing website sales.
Guest posting involves posting your content on someone else's site, which is usually free.
If you guest post on other sites in your dedicated industry, you can establish yourself as an authority, generate traffic, and build backlinks.
Focusing on guest blogging on major authoritative sites, publications, and blogs means greater reach, which can help increase sales.
How Does Guest Posting Impact SEO?
As long as you are alert and attentive when creating useful guest blogs for certain websites, guest blogging can be a great tool to build domain authority and boost your SEO score. 
However, it is understandable why many raise questions about whether guest blogging hurts their business. Since "spam bloggers" try to corrupt blog owners to allow them to post low-quality content for their link-building and SEO rewards, they risk failing.
Expanding an SEO-enhancing guest blogging strategy is ultimately about providing authentic, useful, and relevant content to educate your readers not low-quality content that serves as a container for links to your site. 
As long as your content is high quality, guest blogging is a great way to improve your site's rankings. Google believes that your blog content must be relevant and interesting if other people will link to your blog on their websites.
While stuffing your guest blog posts with links and keywords will get you up the rankings, it's unlikely to generate new quality traffic and won't establish you as an authority in your field.
When people comment, share, like, or link to your blog, it increases in Google PageRank—meaning it's much more likely that someone will search for a similar topic on Google.
But Google PageRank is just an algorithm, so it can't distinguish between dynamic content and spam!
Guest Posts Can Act As Part Of Your Sales Funnel
As you can see, guest blogging can help generate important traffic, which is the heart of any online business or website.
Your business can increase sales with something as simple as guest posting. In addition, optimizing your landing pages, CTAs, and other website features can increase conversions.
Your blog posts influence your customer's buying process, directly impacting your business' sales and returns.
Publishing content on popular blogs can increase brand awareness and credibility with your audience community. In addition, doing it right can drive qualified prospects to your website for conversions and sales.
Click Here To Read More: An Advanced Guide To Guest Blogging
Guest Posting Helps In Lead Generation
Even if you primarily focus on offering and selling activity on your blog, you should use guest posting services to expand your audience. Instead of directly contributing to sales, guest posts can be part of your marketing funnel.
By reaching more potential customers through backlinks and knowledge showcases on other websites, guest posts help drive audiences to the main page that sells your product or service, indirectly driving sales.
Every individual entrepreneur or small business faces the challenge of generating revenue to grow their business.
If you are one of them, this article is for you. Here's how guest posting can increase sales for brands and affiliates. But first, let's take a look at how these criteria are responsible for increased sales:
1. Authority Building Becomes Easier
Search engine optimization is one of the most important forms of online marketing for guest postings.
SEO uses domain or page authority as a parameter for the gravity of a particular website in online searches. You can do it in a way so that the search engines recognize it as real and not a game of the system.
The mere existence of links from other sites to your site on your site does not guarantee sufficient credibility.
To take advantage of these links, the guest writer must ensure that the website one writes has a strong presence and authority.
2. Authority Building Bring In New Audience
In addition to prioritizing interested customers who tend to spend more time on your page, you can engage with audiences outside your target market by posting content on other websites.
These will only sometimes lead to increased sales or business. Still, they are important for building your brand and promoting your business subconsciously, as these users may need to be searching for your service.
However, keeping their names and information in mind and reducing their concentration can help you provide them later.
In addition, it can act as a catalyst when you need something similar to what you do.
Finally, it's always important that these traffic numbers reach your page easily because even the most uninterested user can turn into a quality customer if they actively interact with the information he shares and the experience his website offers.
3. New Audience Brings In Increased Traffic
One of the benefits of guest blogging concerning the information network you provide is creating a system that encourages repeat visitors.
As mentioned above, it will increase your traffic, but more importantly, it will increase the number of users interested in your content.
These will be repetitive users, not one-time users. Acquiring new customers is much more expensive for a business than retaining existing ones. Therefore, so many companies have branded subscription and membership options.
Guest posts help you build a community of customers who keep you informed while ensuring they are happy with your business. Thus this service is especially important as you grow and scale your business.
A positive experience that keeps users returning is also a shared experience that attracts and brings in new customers.
4. Organic Traffic To The Site Increases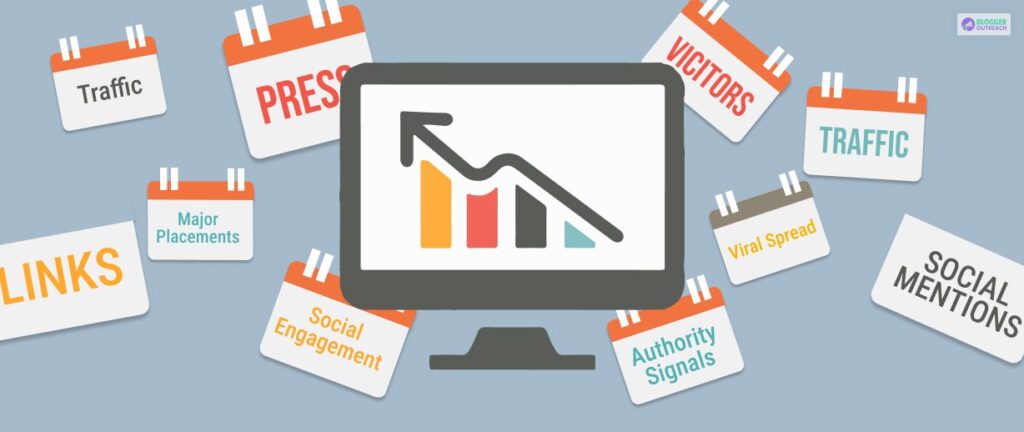 The benefit of guest posting is increased traffic and users coming to your site. Every guest post you create contains a link that leads to the website of your choice.
The more links you have on the internet, the more doors you have and the more ways users can find your business.
Creating content that drives people to visit your site will give you more authority and improve your search rankings, as search engines track every page visit.
The more you create, the more exposure you get, the more traffic you have, and the more likely people will buy your product or service. It's as easy as that.
5. Long-Term Collaboration With Host Sites
One of the main benefits of guest posting is that it develops your relationship with the host site. 
These sites receive content from you while you receive traffic. This symbiotic relationship benefits everyone involved and will grow as opportunities arise.
As a guest creator, you can return to these host sites to share new links and connect to more pages and their website, but the host will still see quality content from you.
Businesses will also see benefits as they can continue to use the site for referrals and more links.
Augment Your Sales Through Guest Posts!
Guest Posts can add value to your website in the form of a backlink or a brand mention.
The author also increases his authority by posting as a guest on another's site. Mentioned below are a few key takeaways: 
To generate sales through guest posts, first, create a buyer persona. Your buyer persona should include your target person's personality, interests, and demographics. 
Another way to increase your guest post sales is to announce discounts and offers on your website. 
A mailing list can lead to repeat visits and sales.
Another way to generate sales through guest posting is to partner with the website for blogs and magazines that do the same.
The Crux!
Running a business is not a short-term endeavor. Therefore, developing long-term relationships is critical to the company's long-term plans and prospects.
Generating sales through digital marketing takes work, but possible. Every e-commerce business owner wants to make more sales. They are constantly finding new ways to bring more orders to their stores and improve their ROI. One significant way to increase sales is definitely through guest posting. 
Hopefully, we have been able to answer all your doubts. However, if you still have any doubts, remember to drop your concerns in the comment section below.
Read Also: