27 Best Marketing Podcasts To Listen To In 2023
The digital landscape is constantly evolving, and staying informed is essential for any marketer.
Marketing podcasts have been gaining popularity in recent years, and it's no surprise why. They provide an easy way to learn more about the latest trends and topics in the marketing industry and valuable advice from experienced professionals.
By listening to the thought leaders of your industry, you get a new perspective on marketing. A podcast breaks the preconceived notions about a topic and helps resolve seemingly impossible tasks easily.
With so many great marketing podcasts, deciding which ones are worth your time can take time.
How can you find a value-driven podcast that is most relevant to your needs among the plethora of options?
So we've rounded up the 27 best marketing podcasts to listen to in 2023, so you can stay stand out and streamline your marketing efforts!
What Are Marketing Podcasts?
Marketing podcasts are audio programs that cover topics related to the marketing industry. These podcasts typically feature interviews with industry experts, discussions about current trends and strategies, and advice for marketers of all experience levels.
Examples of popular marketing podcasts include Social Media Marketing Podcast, Content Marketing Podcast, and the Growth Marketing Toolbox.
These podcasts feature interviews with industry experts, case studies, and discussions of current trends and strategies in the marketing world.
Benefits Of Marketing Podcasts
By leveraging podcasts, businesses of all sizes can remain competitive in their respective industries and capitalize on opportunities to reach more consumers.
Stay Informed: Podcasts allow marketers to stay informed on the latest marketing trends, techniques and strategies.
Cost-Effective: Podcasts are a great way to save money on traditional marketing tactics such as radio, television, and print.
Reach A Wider Audience: People from all over the world can easily reach a wider audience. This makes them an ideal tool for reaching international audiences and expanding a business's reach.
Easily Shareable: Podcasts are easily shareable across social media channels. This makes them a fascinating way to gain more exposure for a business.
Increase Brand Awareness: Podcasts are an effective way to increase brand awareness and visibility. 
Until now, you understand that marketing podcasts are a great way to stay informed, be cost-effective, and reach a wider audience. So now it's time to find the most relevant podcasts.
Top 27 Marketing Podcast To Watch Out In 2023
Are you excited? Without further ado, let's dig deep into the 20 most influential marketing podcasts that will help you stay ahead of the marketing world in 2023. 
1. Online Marketing Made Easy
Host: Amy Porterfield (A marketing expert, accredited by Forbes as one of the top 50 social power influencers.).
Check Out The Online Marketing Made Easy Podcast Here
How Will This Podcast Benefit You?
It stands out among other marketing podcasts and focuses on helping small business owners, entrepreneurs, and digital marketers achieve success with online marketing. 
The podcast covers digital advertising, email marketing, and social media marketing. 
Sometimes also provides insights into online trends and strategies and conducts interviews with successful entrepreneurs. 
Moreover, you can self-improve content through this podcast.
2. Marketing Over Coffee
Hosts: John J. Wall (Top practitioner of marketing, technology, and sales) and Christopher S. Penn (marketing enthusiast, specialized in community outreach).
Check Out Marketing Over Coffee Podcast Here
This Podcast Talks About How To?
Keep up with all the trendy social networks.
Unlock the secrets of SEO and search marketing.
Craft creative email campaigns and copywriting.
Launch out-of-the-box offline marketing campaigns.
3. CopyBlogger FM
Hosts: Leading industry-recognized marketing experts like Brian Clark, Brian Gardner, Sean Jackson, and others.
Check Out The CopyBlogger FM Podcast Here
What's Special About This Podcast?
It focuses on content marketing, copywriting, freelance writing, and social media marketing.
It provides insights from industry leaders and experts and covers digital strategy, marketing automation, content creation, and more. 
It is a great resource for staying up-to-date on digital marketing trends and insights.
4. Marketing School
Hosts: Neil Patel & Eric Sie.
Check Out The Marketing School Podcast Here
What's Unique About This Podcast?
It comes with actionable marketing insights.
The format of this podcast is crisp and clear.
They take only 10 minutes to share value-packed insights. 
You can gain insights from successful entrepreneurs and strategists, hear stories of successes and failures, and learn how to make the most of their resources.
5. Hack The Entrepreneur
Host: Jonny Nastor, Entrepreneur and leading digital marketing expert.
Listen To This Podcast By Clicking Here
What's So Special About This Podcast?
It focuses on giving practical advice for online business. 
This podcast gives a blueprint for building a side hustle.
It offers a wholesome value, including actionable advice, stories from successful entrepreneurs, tips and tricks, and expert interviews. 
The frequency of this podcast is thrice a week.
6. The Hustle & Flow Chart Podcast
Host: Matt Wolfe and Joe Frier (Top experts from the marketing world).
Access The Hustle & Flowchart Podcast Here
The Secret Behind Its Popularity?
It is a unique podcast focusing on helping entrepreneurs and business owners get clarity and confidence in their decision-making.
They conduct this podcast on a lighter note without compromising the quality.
The Hustle & Flow Chart Podcast gives practical advice to help business owners and entrepreneurs navigate the often-uncertain business world.
7. The Indie Hackers Podcast
Host: Courtland Allen (Top marketer, designer, and developer with 8+ years of experience.)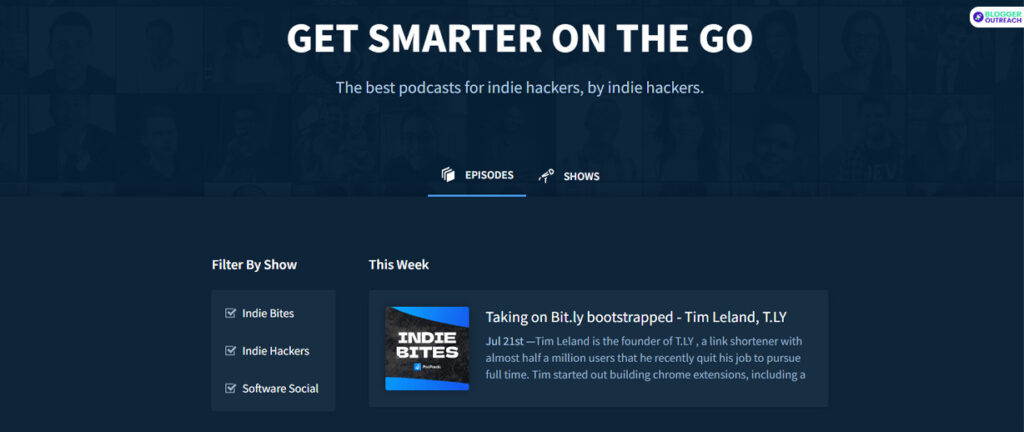 Explore Indie Hackers Today
What's Inside Indie Hackers?
Courtland Allen interviews the ambitious indie hackers who are turning their ideas and side projects into profitable online businesses.
Explore the latest strategies and tools founders are using to capitalize on new opportunities.
Provide a plan to escape the 9-to-5 grind, and create their own personal revenue-generating machines. The future is indie.
8. Seeking Wisdom
Host: David Cancel (Cofounder of drift, 25+ years of experience)
Check Out Seeking Wisdom Now
What Is Seeking Wisdom All About?
The podcast features interviews with top entrepreneurs, marketing experts, authors, and thought leaders.
It helps you become better leaders and build better teams and companies. 
Each episode focuses on a specific area, such as team building, marketing, scaling, product development, and more. 
The podcast also includes stories and lessons from their personal experiences at Drift, as well as actionable advice and tips to help listeners become better leaders.
9. Social Media Examiner
Host: Michael Stelzner (social media expert)
Don't Miss Out On The Social Media Examiner
What Is Special About Social Media Examiner Podcast?
The Social Media Examiner Podcasts is a weekly podcast series hosted by top Social Media Examiner Michael Stelzner. It comes twice a week. 
It provides valuable insights into the latest trends and best practices in social media marketing. 
The podcast comes from social media talk shows, marketing insights, and web3 business podcasts. 
It also includes interviews with industry experts and the world's leading social media marketers. 
The podcast is a great resource for anyone looking to stand out with the latest Social Media trends and strategies.
10. The Tropical MBA
Hosts: Self-made entrepreneurs Dylan Smith and Travis Jamison.
Time To Listen To The Tropica MBA
The Aim Of The Podcast:
This podcast focuses on helping entrepreneurs launch and grows small businesses in the digital age. 
The podcast provides a unique and creative platform for entrepreneurs to learn, share, and discuss strategies for success. 
You can gain insights from successful entrepreneurs and strategists, hear stories of successes and failures, and learn how to make the most of their resources.
The podcast also provides an inspiring yet realistic view of the possibilities and opportunities available in the online business world.
11. Perpetual Traffic
Hosts: Digital marketing experts Ralph Burns and Kasim Aslam.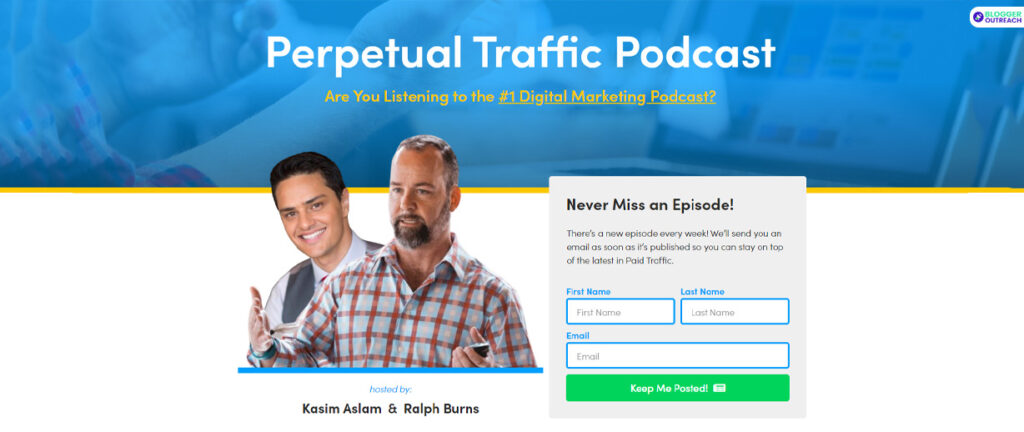 Way To Perpetual Traffic Podcast Is Here!
Perks Of Listening To Perpetual Traffic:
The show focuses on helping you grow your business through paid traffic, including digital marketing topics such as Facebook Ads, Google Ads, retargeting and more.
In addition to featuring interviews with top digital marketers, the podcast also provides practical tips and strategies for improving online marketing efforts.
12. The Science Of Social Media
Host: Buffer's social media experts.
The Science Of Social Media Is Waiting For You
Why Should You Listen To The Science Of Social Media?
It examines the ever-evolving landscape of social media through interviews, case studies, and experiments. 
This podcast is famous for actionable insights and tips for marketers, entrepreneurs, and small business owners. 
It's a great resource for anyone looking to stay up-to-date on the latest trends and news in the social media space and gain practical advice from industry leaders.
13. HBR IdeaCast
Hosts: Alison Beard and Curt Nickisch (senior editors of Harvard business review).
Subscribe To HBR IdeaCast
Highlights Of HBR IdeaCast:
The HBR IdeaCast is a weekly podcast that features some of the best minds in business from Harvard Business Review.
 It features business leaders, academics, entrepreneurs, and other experts discussing the biggest business trends and topics. 
The podcast covers various topics, from leadership and innovation to strategy and business culture. 
It also features interviews with top executives and thought leaders. 
The podcast offers valuable insights and actionable advice to business leaders and entrepreneurs.
14. The Tim Ferriss Show
Host: Critically acclaimed author Time Ferriss.
Here You Go With The Tim Ferris Show
Why Is The Tim Ferris Show In The Limelight?
This podcast acquired the top spot on Apple Podcasts on multiple occasions out of 500,000+ podcasts.
This is a highly recommended podcast for anyone who wants to follow a good routine, looking for time-saving systems and fail-proof methods. 
It also focuses on time management skills that immensely help marketers.
15. The Garyvee Audio Experience
Host: Gary Vaynerchuk (CEO, investor, content creator, business enthusiast).
Key Takeaways From The GaryVee Audio Experience:
The podcast covers topics related to business, entrepreneurship, and personal growth. 
It features interviews with successful entrepreneurs, celebrities, and other thought leaders.
What makes the podcast special is its format. These conversations are often candid and unscripted, allowing for genuine and honest conversations about important topics. 
Additionally, Gary Vee is known for his energy, enthusiasm, and passion for his work; these qualities shine through in the podcast.
16. Noah Kagan Presents
Host: Noah Kagan (Marketing enthusiast, founder of an 8-figure business)
Start Listening To The Noah Kagan Presents Podcast
Best Parts Of 'Noah Kagan Presents':
He has a knack for asking interesting and thought-provoking questions that help to draw out interesting stories and life lessons.
Noah Kagan's podcast features people from all walks of life, from entrepreneurs to athletes to authors.
He also brings on some of the world's most inspiring and successful people, allowing listeners to learn from their stories and successes.
17. The Side Hustle Show
Host: Nick Loper (famous author and entrepreneur who has already been featured in Forbes and New York Times)
Click here To Listen To The Podcast
Benefits Of Listening To 'The Side Hustle Show:
If you're striving to do something apart from your office, this is the podcast you should pay attention to. 
Here, you will get marketing tactics that help you break the shackles of not taking action. 
You can easily extract impactful information from podcasts that allow you to stay ahead of the curve. 
18. The Lead Generation From LeadPages
Host: Bob sparking from lead pages.
Highlights Of 'The Lead Generation From LeadPages':
This podcast aims to share business growth insights.
This podcast features highly experienced business leaders across multiple domains.
This is a must-visit for those who seek a boss-free life by leveraging effective marketing.
19. Your Digital Marketing Coach
Host: Neal Schaffer (Consultant, CMO, and digital speaker)
Start Listening To The Podcast
Key Highlights Of This Podcast:
It is an excellent resource for learning more about digital marketing.
The podcast offers a comprehensive overview of digital marketing topics – SEO, content marketing, social media, email marketing, and more. 
Each episode is filled with valuable tips and strategies from Neal and his guests, making it an ideal resource for marketers of all levels. 
 This makes the podcast especially valuable for those looking to gain insight into the real-world experiences of digital marketers and learn about their success strategies. 
20. Social Bamboo
Host: Derek Videll
The Way To The Social Bamboo Podcast Is Here!
What's Special About This Podcast?
This podcast shares social media strategies that deliver fast and sustainable growth.
It helps small businesses increase their sales. 
Provides mindset training programs to equip entrepreneurs with the skills they need to succeed.
Plus, it comes with new releases every Monday and Thursday morning.
21. Unthinkable With Jay Acunzo
Host: Jay Acunzo
What's Unique?
This series highlights the significance of relying on your instincts and expertise. Moreover, it goes beyond traditional methods and predefined plans.
Unthinkable motivates creators to deliver profoundly personal and impactful creations.
This podcast has become even more important in the age of AI and limitless content.
22. The Product Marketing Show
Host: Rishabh Bhandari, Founder & CEO at Content Beta.
Why Should You Listen To It?
The podcast features conversations led by industry thought leaders and experts.
Here the experts delve into strategies for effective product marketing and customer education.
Moreover, this podcast also talks about strategic planning, scaling, and growth.
Here is how to listen to it.
23. iDigrees By Troy Sandidge
Host: Troy Sandige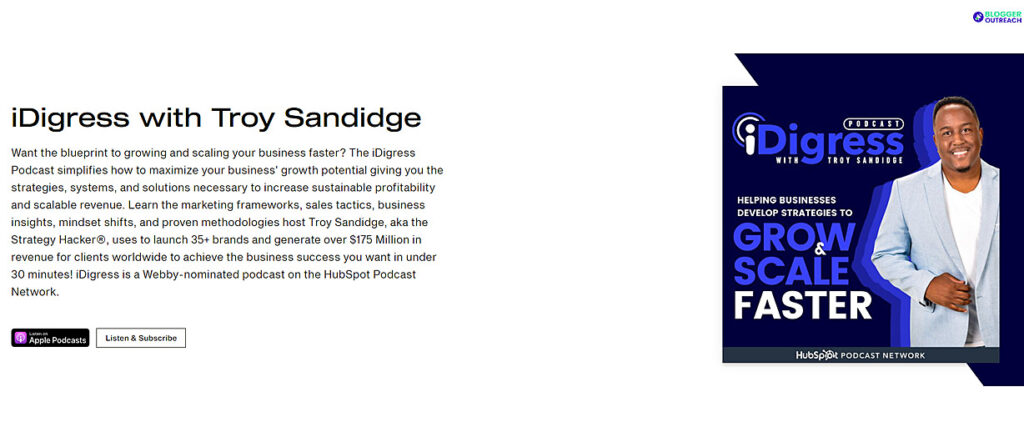 What Unique Facts About This Podcast?
The iDigress marketing podcast provides a proven roadmap to business success. Here, Troy Sandige mostly focuses on marketing, sales, insights, and mindset shifts.
It talks about strategies, systems, and solutions for boosting profitability and revenue sustainably.
The best part? It is a Webby-nominated podcast on the HubSpot Podcast Network.
Click here to listen to it.
24. Revenue Marketing Podcast
Host: Multiple industry experts.
Key Takeaways
Revenue Marketing Podcast talks about topics such as digital marketing, customer acquisition, and the latest trends in the industry.
It is a great resource for marketers looking to stay up-to-date with the industry.
In fact, you can gain insights from experienced professionals.
25. The Long Game By Omniscient Digital
Host: Allie Decker, David Ly Khim, Alex Birkett
Why 'The Long Game'?
Here the power of long-term thinking takes the lead.
You can also gain insights into marketing leadership.
Plus, you have the knack for learning storytelling in content marketing – it is possible with 'The Long Game'.
Additionally, the podcast also teaches data-driven marketing decision-making.
Improve your marketing knowledge with THIS.
26. Generation Builders Podcast With Mariam Hakobyan
Host: Mariam (co-founder/CEO of Softr)
What's Special About The Generation Builders Podcast?
You can hear Generation "Builders" with top-tier products, growth, and community experts here. These are the people who make the products you use every day.
Furthermore, hear their stories, learn from their experiences, and get inspired to create products that make a difference.
Become a part of the community of innovators to create something that changes the world.
Podcast Link: softr.io/podcast 
27. Duct Tape Marketing
Host: John Jantsch (Marketing consultant specializing in small business marketing)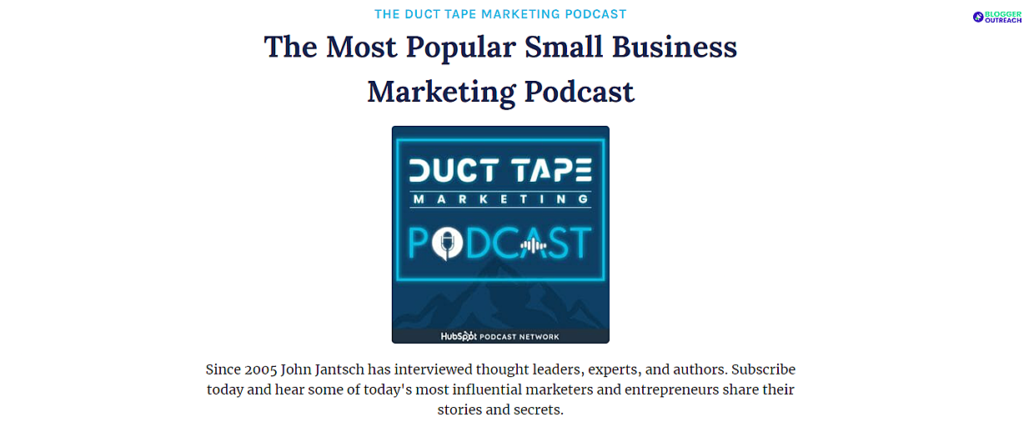 What Makes Duct Tape Marketing Stand Out?
John's direct questions hit the mark, swiftly bringing out crucial insights.
You can expect sharp, effective business growth through smart marketing.
If you are a small business owner, congo! This podcast is for you.
Ready To Gain Knowledge?
Listening to these marketing podcasts will not only help you stay informed about the latest developments in their industry but also help you stay motivated and inspired to reach your goals.
With these 27 best marketing podcasts to listen to in 2023, you can stay ahead of the game and reach success.
We hope that you liked this article. If you have any questions to ask, please reach out!
Read More: