What Is Search Engine Marketing And How Does It Work
Are you ready to skyrocket your website's visibility? If so, search engine marketing (SEM) is the way to go. SEM is an effective way to promote and grow your website, as it helps you reach your target audience more quickly and effectively.
Leveraging search engine marketing improves the visibility of your website in search engine result pages (SERPs). People strive to get a higher ranking through search engine marketing.
It also allows businesses to target specific audiences, track their results, and adjust their campaigns accordingly. Additionally, search engine marketing can help businesses build brand awareness and trust with their target audience.
But what is SEM, and how does it work?
In this article, we'll answer those questions and provide you with an in-depth look at this powerful marketing tool. And please note that this article will talk about Google.
Without wasting much time, let's dig deep.
What Is Search Engine Marketing?
Search engine marketing (SEM) is the practice of improving your site's visibility on the search engine results page. It is a powerful tool for businesses to reach their target audience and increase their online presence.
SEM is heavily dependent on paid advertising. Leveraging search engine marketing brings your website to the top of the search result pages, even way above the organic results.
To get the most out of search engine marketing, you need a clear head about how the ad auction works.
You May Like To Know About: What Is Sales Conversion? – How To Calculate And Improve It?
Ad Auction For Search Engine Marketing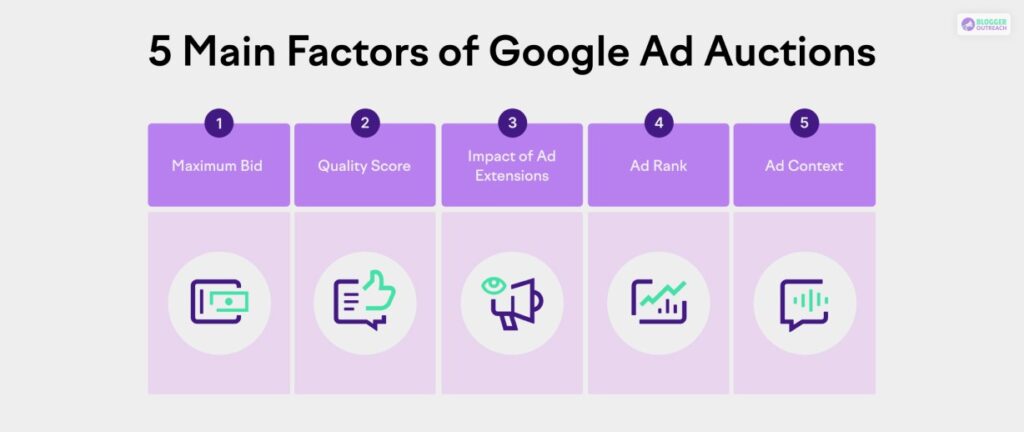 When a keyword enters a search engine, an auction is triggered to determine which ads are eligible to appear in the search results. This auction depends on several factors:
(i) Bidding: Advertisers can set a maximum bid, the maximum cost they are willing to bear for a click on their ad. The higher the bid, the more likely the ad will be displayed, but the more expensive it will be.
(ii) Ad Quality: The quality of the ad is also an important factor in the auction. Ads are typically judged based on various criteria, including relevance to the search query, landing page quality, and the advertiser's reputation. Ads that offer a better user experience are more likely to be displayed in the search results.
(iii) Ad Impact: Advertisers can also use other ad formats, such as video ads, display ads, and remarketing, to increase their chances of appearing in the search results. The expected impact of these ads is also conditional on the auction.
(iv) Ad Rank: The advertiser determines which ads are displayed in the search results. Ad rank is calculated based on the advertiser's maximum bid and ad quality. Therefore, ads with a higher ad rank are more likely to be displayed in the search results.
(v) Ad Context: Google also considers search query context when deciding your ad auction. 
Advantages Of Search Engine Marketing
Search engine marketing (SEM) comes with an end number of benefits. The most prominent benefits are as follows:
(i) Reach Audiences At The Right Time: SEM effectively targets potential customers at the right time. As a result, the chances of clicking on search results for a specific product or service become much higher.
(ii) Cost-Effective: SEM is more cost-effective than traditional advertising. It is much easier to track the ROI of SEM campaigns and make adjustments as needed to optimize performance.
(iii) Increases Visibility: Search engine marketing campaigns can help increase website or business visibility. When people search for a keyword related to your business, you have a higher chance of appearing in the top results.
(iv) Boosts Traffic: SEM campaigns can drive more website or landing page traffic. This increased traffic can lead to more sales and conversions.
(v) Improves Brand Awareness: SEM campaigns can increase brand awareness by exposing your business to a wider audience. People are more likely to remember a brand when they see it in the search results.
(vi) Amplifies Engagement: SEM campaigns can increase website or landing page engagement. The more you engage with your audience, the better the chances that people will interact with you.
8-Step Strategy For Search Engine Marketing
To reap the benefits of search engine marketing (SEM), you need to follow a step-by-step plan. Here is what you should consider for your next SEM campaign.
1. Define Your Goals
Before beginning your search engine marketing (SEM) campaign, it's important to determine what you are trying to accomplish. This will help you decide which tactics and strategies to use and how to measure success. Several types of SEM goals are:
Brand awareness. 
Conversion.
Engagement, etc. 
2. Research Your Target Audience
It's meaningless to make any effort unless you don't know who to target and what to emphasize. Knowing who you're marketing to is just as important as knowing what you're marketing. Research your target audience and develop a comprehensive understanding of their needs, pain points, and interests.
Ask Yourself The Following Questions:
Who are your ideal customers?
What are the things that they engage with the most?
What are the pain areas of your audience? 
Are they mostly males? Or females?
What is the average age of your audience? 
3. Keyword Analysis
To reach your goals, you'll need to choose the right keywords.
First, consider your target audience's words and phrases when looking for products or services like yours. 
Then, research keyword trends and competition to determine which words and phrases are most relevant to your business. 
Check for search volume. 
Also, check the cost of the keywords. 
4. Analyze Your Competition
Before you begin your search engine marketing campaign, you must understand your competition and what they're doing—conduct keyword research and competitor analysis to understand your competitive landscape better. Having a competitor analysis report handy helps you to outperform them.
Here You Should Look For The Following:
Analyze the unique features of your competitor. 
Identify who they are selling to. 
Do a price analysis. 
Think of ways to outperform them. 
5. Set Up Ad Account
The account structure in Google Ads consists of accounts, campaigns, ad groups, and ads.
Accounts: Google Ads accounts are the top-level structure for organizing your campaigns. Each account can have multiple campaigns, and you can use different accounts for different objectives.
Campaigns: Campaigns are the next level of structure within an account. Each campaign has its settings, budget, targeting, and ad groups.
Ad Groups: Ad groups are the most granular level of structure in Google Ads. An ad group contains your campaigns' actual ads, keywords, and targeting settings.
6. Winning Ad Copy
Once you've identified your target keywords, it's time to create a copy. Creating a compelling ad copy is the deciding factor of your SEM campaign. The better your copy is, the more people will click your ad. To make it engaging, try to start your copy with a question or a bold statement. You should focus on creating-
Interesting.
Informative. 
Relevant to your target audience.
Targeting the pain areas. 
Crystal clear call to action.
Content should be optimized for users and search engines, both providing value.
7. Create Targeted Landing Pages
Once you have your SEM strategy in place, creating targeted landing pages for each keyword or phrase you're targeting is important.
For example, you should design your page to get visitors to take action by signing up for a newsletter, downloading an ebook, or making a purchase. Additionally you should:
Craft the headline to hook your audience.
Include the primary keyword throughout your landing page. 
Create a crystal clear call to action.
Make your landing page visually appealing. 
Convert your features to customer benefits. 
Add testimonials to build credibility. 
8. Monitor And Adjust
The key to successful search engine marketing is to monitor and adjust your campaign on an ongoing basis.
This includes testing different landing pages, content, creatives, etc. After your campaign is live, track your results with Google Analytics. 
Post that, create a report to gauge your strengths and weaknesses. Work on your weak areas and thrive with your Search Engine Marketing.
Best Practices In Search Engine Marketing
To maximize the effectiveness of search engine marketing, businesses should focus on certain factors. These are-
(i) Optimize For Mobile: Mobile optimization is essential for any successful SEM campaign, as more people are relying on mobile for searching information. Make sure you optimize your website for both desktop and mobile devices and that it loads quickly and accurately.
(ii) Utilize Social Media: Social media can be a powerful tool for search engine marketing, as it allows you to engage with potential customers, build relationships, and drive traffic to your website. Make sure to post regularly on social media channels and include relevant keywords in your posts.
(iii) Track And Analyze Your Results: To ensure that your search engine marketing efforts are successful, it's important to track and analyze your results. Use analytics tools to monitor your website's performance and adjust your campaigns.
Wrapping Up!
Till this point, you got an in-depth idea about search engine marketing. By understanding how search engine algorithms work and following best practices, you can maximize the effectiveness of your search engine marketing campaigns.
But strategies are only effective if you're ready to put in some extra effort. Look, any form of marketing requires testing and trying. And SEM is no exception.
Start taking action. If you need further help from us, please write to us. We will be more than happy to help you. 
Read Also: