Top 5 Strategies To Get High Quality Backlinks
SEO revolves around how search engines perceive your site. Backlinks play a key role here.
In fact, a backlink carries authority, relevance, and popularity.
Search engines consider your content valuable when prominent sites link to it.
This is where high-quality backlinks come in.
According to a recent study by SEMrish, nearly 92.3% of the top 100 ranking domains had at least one backlink.
Clearly, high quality backlinks are important.
Now, many of you might be wondering what high-quality backlinks are.
A High Quality Backlink Is A Link That Is:
Relevant
Contextual
Comes with quality content
This article will discuss the top five ways to obtain high-quality backlinks. So, don't go anywhere. Start exploring!
Click Here To Know About: People Also Search For
1. Guest Posting
You will gain online visibility through guest posting.
In fact, this practice originated during the days of printed newspapers.
You can connect with established audiences in your niche. Also, to get high quality backlinks, this approach increases social media reach.
Guest blogging predates Google's inclusion of backlinks as a ranking factor.
Write well-crafted guest posts, and don't spam.
The content you provide as a guest blogger must meet or exceed the standards of your own website. Guest bloggers don't always succeed, but a dedicated approach can yield significant results.
You Can Identify Guest Posting Opportunities Using Specific Search Terms In Google:
"keyword + write for us."
"keyword + guest contributor"
"Keyword + guest blogging sites"
"keyword + guest posting opportunities"
"Keyword + Title + guest post"
Start pitching the sites once you've identified them. Craft a pitch personalized pitch. This will aid you in grabbing the attention of the publisher.
2. Contextual Links In The 'Read More' Section
You will gain high quality backlinks through contextual links found in the 'Read More' section of articles. A contextual link comes within the text of an article and is relevant to the content discussed. Here's how they can help:
Contextual links are placed within articles related to your content. Your website will get more visitors since the audience is already interested in the topic.
Search engines value contextual links more than generic links in footers or sidebars. Search engines see your content as valuable and relevant when authoritative websites link to it within their articles.
To get contextual links, you must identify the right prospects. Look for articles in your niche that already have a "Read More" section or recommend other articles.
You must identify the right prospects to acquire contextual links. Find articles in your niche with a "Read More" section.
For instance, if you've published an article or report on social media marketing, search for articles discussing that. Then, recommend further reading.
Use Search Operators Like:
"marketing trends inurl:blog intext: 'Read more'"
"marketing trends inurl:blog intext: 'Recommended articles'"
"marketing trends inurl:blog intext: 'Recommended reading'"
Make sure to explain your study or content's value to the publisher when pitching your content. Craft a persuasive message highlighting your content's unique insights or benefits.
3. Leverage Listicles For High Quality Backlinks
Listicles are those fun and easy-to-read articles that list things. Examples include – "Top 10 SEO Tips" or "5 Ways to Improve Your Website."
They're popular because they're simple and organized. Now, here's how they can help you score those great backlinks:
People love sharing lists. These are straightforward and helpful. That is why fellow publishers will drawn to you.
(ii) Linkable Assets
Listicles often become what we call "linkable assets." That means other websites find them valuable and want to link to them. It's like saying, "Hey, check out this cool list of tips!" And then, they link back to your listicle.
(iii) Niche Authority
If you make a niche-specific listicle, other experts might link to it as a reference. For example, if you're in digital marketing, a listicle like "15 Must-Follow Digital Marketing Blogs" could attract links from other marketing blogs.
(iv) Visual Appeal
You can make listicles appealing with images, bullet points, and short descriptions. When your listicle is attractive and scannable, it's more likely to catch the eye of publishers.
(v) Outreach Opportunities
Publish your listicle and let other websites or bloggers know about it. They might link back to you if they find your listicle useful.
4. Attract High Quality Backlinks By Creating Tools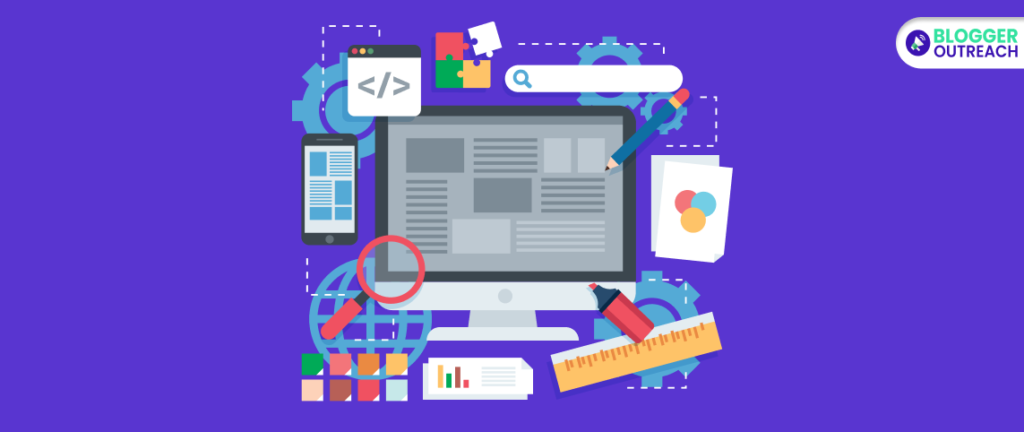 The key here is to offer something valuable to your audience. When you create a tool that people find useful, they will link back to it. As a result, you earn the high quality backlinks you're after.
Start by identifying a problem or need in your industry. Look for a PROBLEM. It could be a calculator, generator, or any helpful resource.
Secondly, create the tool or resource that addresses the identified need. Make it accurate and useful. Keep it simple and easy to navigate.
Offer the tool for free on your website. This encourages people to use it and share it with others. No one likes paying for tools, right?
Next, spread the word about your tool. Share it on social media, in relevant online communities, and even contact relevant bloggers or publishers.
On your tool's webpage, suggest that users can share it by linking back to your site. Give them easy-to-copy code or instructions on crediting your tool with a link.
Keep an eye on who's using your tool and who is talking about it. Contact websites and bloggers who have featured your tool but haven't linked back to you.
Don't stop at creating the tool. Keep improving it based on user feedback and industry changes. This ensures it stays relevant and continues to attract high quality backlinks over time.
5. Statistical Content Backlinks
What is statistical content? This is data-driven content that shares:
Imagine you run a travel blog. You conduct a survey about the top travel destinations for 2023. Content creators who write about travel trends might link to your survey.
You create a report on the latest cybersecurity threats in the tech niche. Online security blogs and tech websites may naturally link to your report.
Why Statistical Content Gets Links:
Authority: Statistics make you look like an expert. When you present facts and data, people trust your content more, making them more likely to link to it.
Credibility: Statistical content adds credibility to your arguments. Others prefer linking to trustworthy sources, and statistics back that up.
Unique Insights: Statistics often reveal unique insights. When you bring something new to the table, bloggers and websites want to share it.
How To Get Those Links:
Create Original Research: Conduct your own surveys or studies. Original data is a goldmine for backlinks. For example, you could survey lockdown exercise habits if you're in the health niche.
Visualize Data: Make data easy to understand with charts and graphs. Statistical content with visuals is more shareable, so more people will link to it.
Shareable Content: Craft your statistical content to be easily shareable. Include social sharing buttons and encourage readers to share the data.
Outreach: Get your stats in front of industry bloggers and websites. Send them a friendly email and explain how your data can enhance their content.
Guest Posts: Provide guest posts on other websites using your statistical content as a reference. This can lead to natural backlinks within the content.
Finally, To Get Them, Focus On:
Original research
Visualization
Shareability
Outreach
Guest posting
Stats don't lie and can lead to natural, valuable backlinks.
Build High-Quality Backlinks With Bloggeroutreach!
Revamp Your SEO Game with BloggerOutreach! We are a top SEO agency renowned for building high quality backlinks for SEOs, agencies, brands, startups, etc.
Here Is Why You Should Discover The BloggerOutreach:
(i) Powerhouse Authority Content: Expertly crafted content boosts your website's reputation. Attract relevant traffic and elevate your domain authority.
(ii) Dominate Search Rankings: Enjoy a constant flow of targeted traffic. Thus increasing sales-related queries and driving direct sales.
(iii) Score High On Metrics: Achieve remarkable Domain Authority and Domain Rating. Attract qualified leads and organic traffic.
(iv) Establish Trust And Credibility: Create high-quality, user-focused content. In turn, fosters loyalty and converts visitors into customers.
(v) Boost Brand Awareness: Craft engaging blog articles and establish a strong online presence.
(vi) Garner Qualified Leads: Our high quality backlinks augment your traffic, and rankings and generate qualified leads.
(v) More Leads, More Sales: Convert your audience into customers with our link-building strategy.
So, are you ready to change your SEO reality? Do you want to talk to our Outreach Experts?
Book a free strategy call for a custom plan to reach your goals.
Read Also: