Understanding Your Advertiser Dashboard On BloggerOutreach?
We hope that you have opened your advertiser account with BloggerOutreach.
If not, read our guide for opening an advertiser account.
Well, now come back to the platform. That looks something like this:
As you see, there are different features visible here. Let's get into those one by one:
Active Orders: Here, you get the number of your current orders that are being processed.
Completed Orders: Let's say you have successfully completed 50 orders with BloggerOutreach. This section will show the number 50 in this case.
Wallet Balance: How much money you are holding with BloggerOutreach's account.   
Lifetime Spending: This will reflect the total monetary spending you have made with BloggerOutreach to date.
Next, you will again see four rectangular blocks:
Place Order: This will allow you to order services from this platform.
See My Orders: Check your purchase history here. Plus you can also see the order status in this space.
Buy Content: For those who want to order content writing services, leverage this section.  
View Content Orders: See the overview of the orders you have made with respect to content writing.
Further, we have more to offer.
Buy Package: Explore the options regarding different packages you want to buy.
View Package Orders: This section will reflect those if you have purchased packages.  
View All Transactions: See all the transactions you have made.
Edit Profile: If you want to modify your profile, this is the section you are looking for.  
Finally, if you want to talk to our experts and get personalized solutions, click on 'talk to our experts'.
Dashboard Sidebar Menu
Well, now move on to the dashboard sidebar menu. This will appear on the left side of your screen and look like something like this:
1. Explore Sites:
2. Orders
Manage your requests seamlessly through our user-friendly order management system. Place new orders, track progress, and communicate in one place.
3. Content Orders
Need engaging content? Place content writing orders tailored to your requirements. Our skilled writers craft articles that align with your niche and audience, ensuring top-notch quality.
4. Packages
Choose from a variety of pre-designed link building and content packages that suit your marketing goals. These packages offer a cost-effective way to get the services you need.
To view your past orders, simply click on 'view orders'.
5. Campaigns
Organize your projects effectively by creating campaigns. Bundle multiple orders, track their performance, and manage outreach efforts all within a single campaign.
6. Wallet
Keep track of your funds and transactions securely in your platform wallet. Easily deposit funds to initiate new orders and enjoy a streamlined payment process.
7. Withdrawals
Our hassle-free withdrawal feature transfers your earned funds from successful campaigns and referrals to your preferred payment method.
8. Invoices
Access and download detailed invoices for all your transactions. Maintain clear financial records for your orders and services availed.
9. Subscription
Opt for our subscription plans to enjoy regular content updates and link building opportunities. Subscribers get exclusive access to premium sites and services.
10. Profile
Set up your profile with your image, name and other contact details. Put your information efficiently to streamline the order placement process.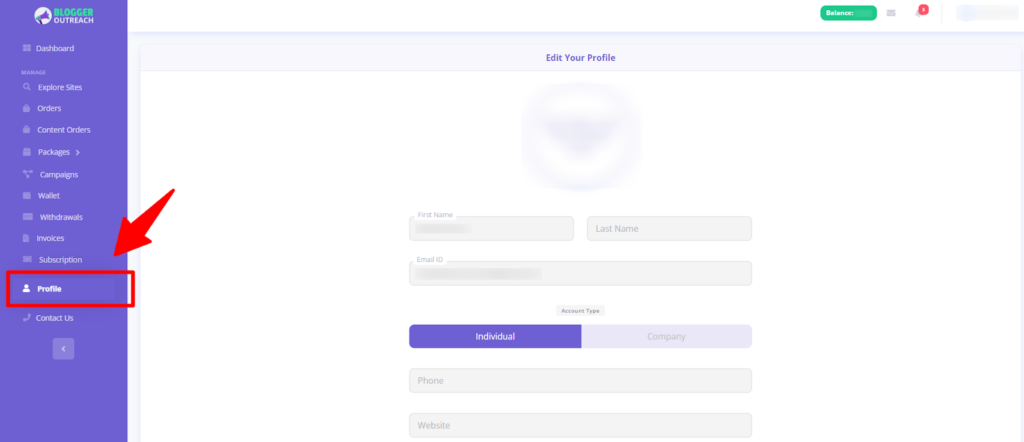 11. Contact Us