10 Simple Components Of A SEO Marketing Strategy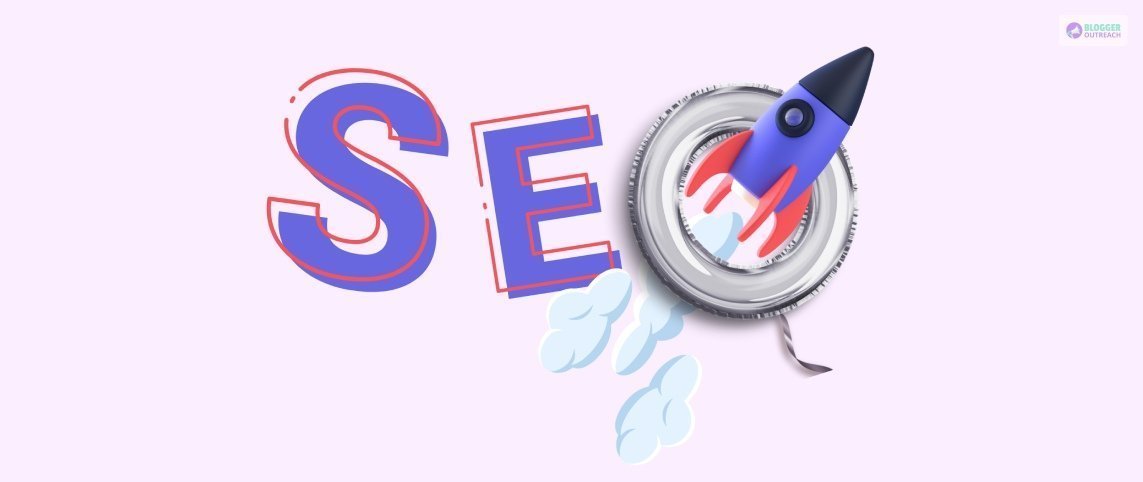 SEO Is The Game-Changing Factor Of Any Content Marketing Strategy!
So devising a fail-proof SEO strategy is important to stay ahead of the curve.
Search Engine Optimization is the mechanism through which websites strive to rank higher on the search engine result page. Not only in ranking, but the perks of SEO are also widespread.
An accurate SEO content marketing strategy augments your brand's presence, improves your credibility, boosts your sales, attracts traffic to your website, etc. 
SEO is not as easy as it may sound. To streamline your SEO strategy, you need to understand the core essentials of SEO. Do you know the essentials of a successful SEO strategy? Whether you're a newbie or someone who has been doing it for a time, you have to adhere to the basic principle of SEO.
This article will sail you through the basic components of SEO that will help you to streamline your SEO strategy. So without further ado, let's get started.
10 Key Elements Of Simple SEO Marketing Strategy
Getting the basics right is a common quality of a content marketer. Here we are discussing the 10 important aspects of your SEO strategy. 
1. Keyword Research
Keywords are the exact search phrases that we use when we are looking for something on the web. For example: imagine you're looking for leather jackets, and you've typed 'buy leather jackets online. Here 'buy leather jackets online' is a keyword.
The focus keyword is the backbone of your content. Your content revolves around your focus keyword. In contrast, long-tail keywords are search phrases that consist of 3-5 words. Long-tail keywords are more accurate in analyzing the search intent of the user.
Keyword Research For a Winning SEO Strategy
Topic Scanning: Do your research, look for your competitors and figure out the topics that you're competitors want you to cover. 
Seed Keywords: The primary keyword that summarizes your whole content is your seed keyword. Suppose your topic is 'How to make money online in 2023'. Here your primary keyword will be 'make money online.' 
Competitor Analysis: Unless you don't know what's working and what's not, you can not stand out. Competitor analyses help you to understand the emphasized keywords within your niche. 
Monthly Search Volume: It refers to the average number of monthly searches for a specific keyword. Several tools can help you with this—Google's most popular keyword planner.
Keyword Difficulty: Before getting into any competitive field, it's important to gauge the difficulty. Keyword difficulty tells you how difficult a keyword is to rank for. 
2. Search Intent
Every Google search comes with a specific purpose. It is inevitable to understand the reason behind a specific search. Discover the reason why someone is searching for a specific keyword. It will help you to meet the reader's expectations.
Understanding the search intent helps you to rank higher, which, in turn, helps you to drive traffic to your website. As search intent is important for ranking, you can not afford to miss it.
Types Of Search Intent For SEO
Informational searches mostly cover the 'how to' questions where a user is looking for information. 'how to start blogging, 'What is a cryptocurrency,' etc. 
Navigational keywords are meant to redirect to some other website. Example: 'Facebook login, 'Twitter', 'YouTube' etc. 
Your keyword intent is said to be Commercial when your intention is to look for products or services within a specific location. Example: 'Top digital marketing agencies in Boston.' 
Transactional keyword intent is for purchasing something. 'Buy insurance online'. 
3. Quality Content
#1 mistake that prevents most of the websites from getting the result they want. Which is writing to impress the search engine, not to address all the queries of the users.
When we talk about quality content, we mean authoritative, problem-solving content. Consider your content as your business and address your readers' pain areas. Quality content is pivotal for higher search engine rankings.
Ways To Leverage Your Content For Optimum SEO Strategy
(i) The Goal Of Your Content: The purpose of your blog must be clear to you. The writing style depends on the end goal of that specific blog. For example, some blogs are for sharing information, and some are for building links, etc.
(ii) Readers' Persona: You must know whom you're talking to. Understanding the readers' pain areas and expectations is the surefire way to leverage your content.
(iii) Don't Fake Your Knowledge: Write about something that you're master at. You must possess the required expertise to talk on specific topics. If you need to learn about a particular niche, study well, acquire expertise, and start writing.
(iv) Extensive Research: Thorough research is crucial for creating a thought-provoking blog. Analyze the competitors' blogs and figure out the loophole. Then, consider how you can outperform your competitors and frame your content accordingly.
(v) Accurate Keyword Placements: Contextual keyword placement is the hack to an SEO-friendly blog. Place your keyword in the headline, meta tags, and throughout the content. Don't indulge in keyword stuffing by over-emphasizing a specific keyword.
(vi) Problem-Solving Content: Tap into the pain points of your readers. Curate your content to educate the readers by addressing all the necessary queries.
4. Core Web Vitals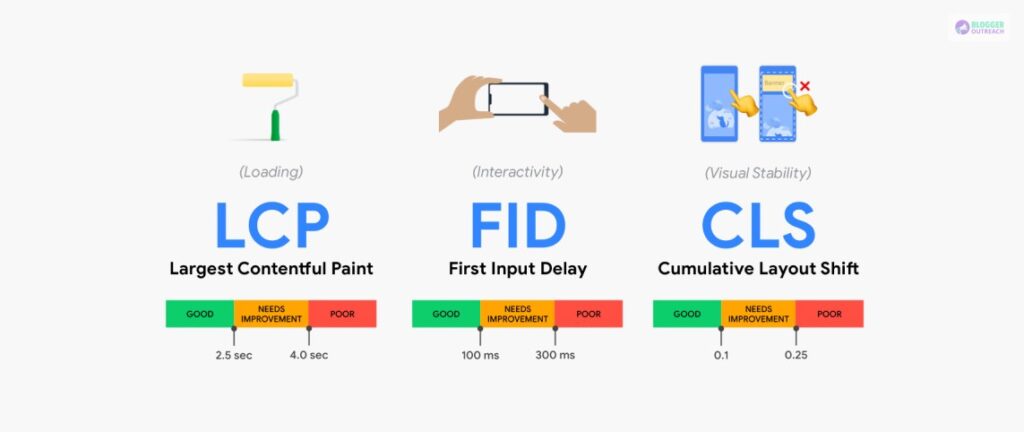 To provide its users with a seamless experience, Google is working relentlessly. To serve the same purpose, in 2020, Google came to Core Web Vitals.
Core Web Vitals Come With Three Metrics. These Are:
(i) Largest Contentful Paint (LCP) – It signals to Google how long your website takes to load the largest content element. The largest component could be an image, or it could be a text. According to Google, a good website must have LCP within the first 2.5 seconds.
(ii) First Input Delay (FID) – Interactivity is the key parameter for FID. It gauges how long a browser takes to interact with a user when they land on your website for the first time. As recommended by Google, the ideal FID is 100 milliseconds.
(iii) Cumulative Layout Shift (CLS) – It focuses on stability. It analyses, while loading, how stable your page elements are. Have you ever tried to read specific stuff on a website or tapped a button and ended up clicking something else? If yes, then you've already witnessed what CLS is. For optimum website experience, Google recommends having a page experience of less than 0.1.
5. Crawling
A Crawler is a program /bot/spider that helps the search engine to understand the content of your website.
Crawling is a key component of how search engines work; it is the process by which they discover new and updated content. In order for a page to be included in the SERP, the search engine must first crawl it. Because of this, crawling is a critical part of SEO.
The process of web crawling generally starts with a list of URLs to visit, which is typically generated from a previous crawl of the web. The crawler then visits each URL in the list, reads the content of the page, and extracts any links on the page.
The purpose of a web crawler is to visit as many pages as possible in order to extract data. Web crawling is important for your SEO strategy because it allows search engines to collect and index data on the internet. This data can then be used to provide relevant results to users when they perform a search.
6. Indexing
Indexing is a vital part of SEO strategy, and it refers to the process of adding websites to search engine databases. This process begins when a web crawler, which is a software program that scans the internet for new content, discovers a new website.
It is the process a search engine uses to collect, parse, and store data about the web pages it crawls. A search engine needs to know two things about each web page to be able to serve relevant results to users: the content of the page and where the page is located (the URL).
To find out this information, the search engine sends out what are called web crawlers or spiders. These crawlers visit web pages and read their code in order to determine what each page is about.
7. Backlinks
SEO strategies are helpful in improving the visibility of a website for relevant searches. One common method of SEO is creating backlinks. Backlinks are linking from other websites to the website being optimized. Search engines view backlinks as a vote of confidence for the website.
Backlinks show that your site is credible and has relevant content. The more backlinks a site has, the higher it will rank.
Backlinks are also called an inbound link. Backlinks are important for SEO strategy because they show search engines that your site is popular and relevant. The more backlinks you have, the higher your site will rank on search engines. Backlinks are also a good way to get traffic to your site.
8. Meta Tags
Meta tags are snippets of text that describe a page's content; the meta tags don't appear on the page itself but only in the page's source code. These are essentially little content descriptors that help tell search engines what a web page is about.
These tags can control how your web pages are listed and displayed in search engine results. While meta tags might not directly impact your search engine rankings, they still play an important role in optimizing your on-page SEO.
(i) Meta Title:
A meta title is the title tag that appears in the HTML code of a web page. It is what you see as the clickable link in a search engine results page (SERP). The title is also what displays as the page's tab in a web browser. Search engines use the meta title as a ranking factor, so it is important to use keywords judiciously in order to help your website rank for those keywords.
(ii) Meta Description:
Meta descriptions are HTML attributes that provide concise explanations of the contents of web pages. Meta descriptions can be any length, but Google generally truncates snippets longer than 155 characters. It is important to keep your meta descriptions both relevant and unique to improve your CTR.
(iii) Meta Keywords:
Meta keywords are HTML tags used to provide search engines with additional information about the content of web pages. They are a list of words and phrases that describe the contents of a webpage, and they help search engines understand the topic of the page and determine which search results to show. Meta keywords are not visible on the web page but are instead embedded into the HTML code.
9. Local SEO Strategy
Local SEO is a method of driving organic traffic to your website from people within your geographical area. The aim of Local SEO is to improve your online visibility for searches with local intent.
Local SEO is a branch of Search Engine Optimization (SEO) that specifically deals with improving a website's visibility for locally-oriented searches. It is important to show up in these types of searches because they are often the first step in the customer journey.
The easiest way to improve local SEO is to ensure that your website and contact information are as accurate and up-to-date as possible.
You can also improve your chances of appearing in local search results by creating and claiming local business listings, encouraging customers to leave online reviews, and building up a strong social media presence.
Creating high-quality content that is relevant to your local audience can also help attract more attention from search engines.
10. Technical SEO Strategy
Technical SEO is the process of ensuring that a website is accessible to search engines and improving the visibility of the site. This includes optimizing the structure of the site, the code, and the content. 
Technical SEO can be divided into on-page SEO and off-page SEO. On-page SEO focuses on optimizing the website itself, while off-page SEO focuses on improving the visibility of the website in search engine results pages (SERPs).
Technical SEO has changed a lot in the past few years. There are many different aspects to technical SEO, and it can be difficult to keep up with all the changes.
These Strategies Are:
Improving website speed and performance.
Optimizing for voice search.
Improving mobile usability.
Implementing schema markup.
Using HTTPS.
Key Takeaways!
Developing an effective SEO marketing strategy is an important part of any successful business. As this article has shown, there are 10 key components of a successful SEO marketing strategy.
By understanding and employing these components, businesses can increase their visibility in search engine rankings, drive more organic traffic to their websites, and improve their overall online presence. 
With the right SEO strategy, businesses can gain the competitive advantage they need to succeed in the digital world.
We expect you will find this article of high value. For more assistance, feel free to ask us.
Read Also: