Why You Should Buy Backlinks For Your Business ?
Whether to buy backlinks is one of the most important questions we have faced from clients as well as aspiring bloggers. This is a contentious issue, to say the very least. However, in this article, We will try to navigate the murky waters of link building and buying backlinks.
I Will Try To Answer Questions Like-
What are backlinks?
Is it a good idea to buy backlinks in 2022?
What is link building?
What are some of the steps that will ensure you buy backlinks of high quality?
How does Google interpret buying backlinks?
Should you trust resellers when it comes to buying backlinks?
Being a team of experts, buying backlinks is one of the best ways in which you can benefit your business. This is often one of the most important Off-Page SEO optimization strategies.
If you have been able to ace the game of buying quality backlinks,
You Will See A Monumental Increase In:
Buying backlinks is a good idea when it is decent, ethical, and transparent. Like most digital businesses, buying backlinks needs trust as its foundation. This trust should always be there between a publisher (blogger) and an advertiser (client).
The biggest advantage of buying quality backlinks is the time factor. Yes, there are ways and means through which you can do the same over a period.
However, doing things organically might take a lot of time. This time will eat into your reserves, and someone might just take your spot.
Buying backlinks from authority sites help you save time, effort and guarantees sure results.
What Are Backlinks?
Backlinks are inbound links to your web page or product page placed on another website's article or content. This helps redirect traffic from that website to your page.
From the standpoint of Google, backlinks act as a vote of trust. The more backlinks you have in quality high-authority websites, the more Google reads your site as credible and viable and rewards it accordingly.
What is the reward, you ask? Higher Search Engine Results Page!
Link Building has existed ever since the search. For Google and other search engines, the more backlinks you have all over the internet, the more credibility.
Backlinks Are Essential For Two Main Reasons:
They help you ace the SERPs.
 They help drive new audiences, traffic, sales to your website and build brand awareness.
Of the two, buying backlinks and artificially increasing rankings are highly criticized by Google. As we already mentioned, there are ways of buying.
Click Here To Read Out: Writing And Formatting A Whitepaper
History Of Buying Backlinks
Link building has existed since the inception of search, and so has buying quality backlinks. Therefore, it is imperative that we try to understand a brief history of how people buy backlinks.
It all started with Directories in the late 1990s. The most famous one is Yahoo's directory. These link building directories charged a review fee. This ranged from around $250-$500 dollars.
In the early 2000s, many sites started selling sidebars, top banner bars, footers, and the like. Though the in-content link was not that much in vogue, yet it was slowly making a resurgence.
This was also one of the most severe periods of Google crackdowns. At this moment in backlink history, Google started investing heavily in its Spam Team.
The main task of this team was to locate, identify, and de-index sites, which were selling link directories and link placements.
The price was in correlation to the metrics that the page had. Page Rank was by far the most important metric that mattered for people who were buying backlinks.
Above all, many of these practices and directories ended. Nevertheless, the central question is- did it stop the practice of buying backlinks? No, it did not!
New ways and means emerged in the industry that was ethical, transparent, and credible. Money was involved most definitely, but efforts to disguise the same according to Google's interpretation became part of the system.
Buying Backlinks Signifies
Backlink buying is paying a website owner for linking to your website. Unlike organic guest posting methods, you pay for every link you get here.
It's no secret that the sole aim of buying backlinks is getting recommended by prominent websites and earning the trust of search engines.
The pivotal factor to consider while buying backlinks is relevancy.
Wait! There are more facets to it. The other reasons why you should buy backlinks are as follows:
Quick Results: Buying links ensures you get links from highly authoritative websites without much effort. High authority websites pass the link juice faster to ascertain results for you. 
Easy Outreach: Apprpoching a website owner, posting on their website, and waiting for them to link to your page takes a lot of time. Buying links bypasses the intermediary steps and make the process hassle-free. 
Competitive Advantage: Buying backlinks ensures fast rankings on search result pages and stays ahead of the competitive curve.
Buying links can come from: paid guest posts, link insertions, private blog networks (PBNs), paid directory listings, and press release distribution services, all in a simplified manner.
How Google Views Buying Backlinks?
Make no mistake about it. Google does not consider buying backlinks as an organic mean. In fact, buying links and link building through paid networks qualify as Black Hat Strategies.
In other words, Buying Links will land you in trouble if you do not do it intelligently. Google is actively working to reduce and curb such practices.
This drive is Google's attempt at making the internet a free, transparent, and organic medium for information. Having said that, if done properly, there is no chance of Google identifying your link building strategy.
Many people ask me about what happens if Dad Google finds out if you are engaged in buying backlinks. Firstly, Google will curtail the metrics of the website involved. This involves a sharp drop in page ranks, visibility, and search.
In more severe cases, both the publisher and the advertiser's pages can be de-indexed. We have seen many sites getting on Google's list of bad practices and not being able to raise their metrics ever.
This even after they have stopped it, cleaned the site, and rid it of its nefarious history. You all might probably be scared hearing about all this.
However, there is a silver lining in all this. The benefit of Google's cracking down has limited the influence of link resellers. This is a positive development.
Resellers were polluting sites, publishers, and advertisers through spurious link building. As I have already mentioned, even buying backlinks can be an ethical practice.
How Can You Buy Backlinks And Escape Google's Wrath?
To begin this section, we would like to raise two fundamental question-
Has the practice of buying backlinks stopped?
Our reputed publications not buying sponsored posts?
The answer to both these questions is a big NO.
You cannot buy backlinks directly. That practice is bad and will land you in soup, sooner rather than later.
What you can do is buy sponsored content and engage in genuine blogger outreach. Let me break it down for you.
For Google, the internet means a place where information is free, genuine, and serves a purpose. If your content addresses all these factors, you have no problem buying backlinks and engage in link building.
You Need To Follow The Below-Mentioned Checklist:
High-Quality Long Format Content.
WordPress and SEO-Optimized Content.
100% Original and Plagiarism-Free Content.
High Authority Publishers (DA, DR, SERPS, Traffic, etc).
Informative Content that serves a purpose.
In-Content Links.
Not more than 2 Hyperlinks to your website (1500+ word articles).
Extra External Links to Authority Sites (Publisher will do this for you).
One Hyperlink in One Publisher's website, or at least one page.
If 'Buying Backlinks' is a negative term, let us replace it with 'Sponsored Content' and 'Guest Posting.'
These two new terminologies of link building are gaining traction. They are also very much here to stay. Most importantly, if you are following the checklist, you will never get into trouble.
On the other hand, you will start attracting new traffic and build credibility. Your website will also see an improvement in its metrics. This will also help you ace the SERPs and convert visitors into customers.
'Buy Backlinks': Red Flags To Avoid
If you are reading this article, chances are that you are familiar with what are some of its benefits. What you might not be aware of are some challenges that you might encounter when you want to buy backlinks.
There Are Many Red Flags That You Would Want To Look Out For And Avoid-
Avoid buying backlinks from a Link Reseller.
Vet the content properly before publishing.
Try and work through credible platforms that vet publishers beforehand.
If the price is too good, chances are it's fake.
Use Escrow as a payment method.
Do not allow other external commercial links other than your own brand.
One of the most elementary mistakes that clients and advertisers make is assembling link building. The article comes from somewhere, the publisher is someone else, and there are other external commercial links, etc.
If there are too many variables, and you are not able to fix accountability, your ship will sink. You need to have a proper link building strategy that is cohesive and organized.
Don't Buy Backlinks Through Link Resellers
Link Resellers have made it difficult for good and reputable digital marketing agencies. Link building is sophisticated expertise. As resellers usually work through cuts and commissions, they are not concerned about quality at all.
I have seen 90% of all resellers sending articles that 'Spun Content'. For them, all that matters is a link that needs to be there. They have no regard for anything else.
Advertisers and publishers lose equally due to resellers. Both parties lose credibility, experience a drop in metrics and their digital footprint.
Resellers are also untrustworthy when it comes to payments. As they are only concerned about themselves, they do not honor agreements.
Many of my friends in the industry, both publishers, as well as advertisers, have stopped working with resellers. If you are still working with one, it is a good idea to jump from this sinking reselling ship.
Resellers do not follow processes and have no regard for being discreet. Their practices attract Google as a fire attracts a moth.
The Benefits Of Sponsored Content Platforms
In my experience, if you are working with a reputed platform, you will benefit a lot. Platforms that offer sponsored posts, guest blogging, and content writing are able to control operations.
As a result of controlling multiple variables, an advertiser is free of the burden. The platform manages everything from creating original, quality, long-format articles to establishing relationships with publishers.
More than anything, if someone is investing time, money, and effort into creating a sponsored content platform, they know their link building.
It is always a good idea to run after one entity rather than three. If you are buying backlinks through a sponsored content platform, you will hold them accountable.
Another good thing about a sponsored content platform is its money refund policies. Most of them work through escrow payments. Good ones offer full money refunds for clients. Working with a sponsored content platform will give you freedom from being duped.
However, the thing that is most beneficial for advertisers is the variety on offer in terms of publishers. This variety is placed on the sponsored content platform after proper vetting and filtering.
Buying Quality Backlinks In 2023: Extra Add-Ons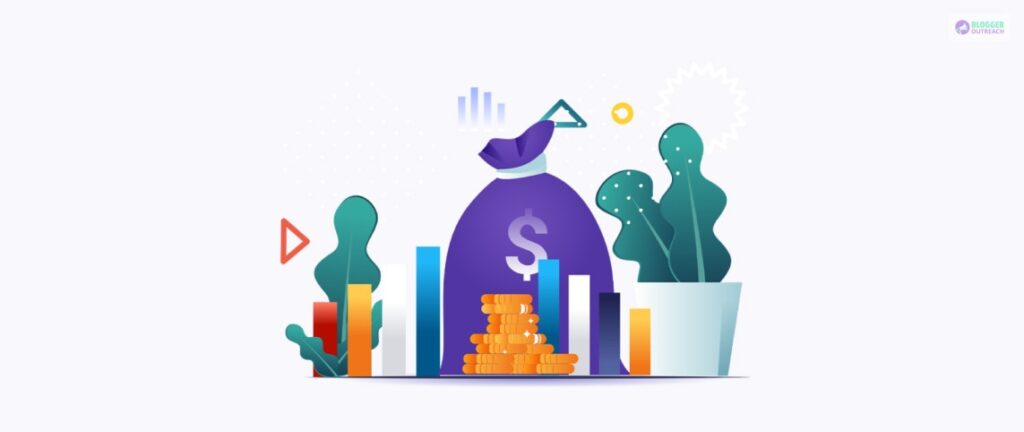 Like most functions related to digital marketing, when you buy backlinks, you can do a whole lot more with it.
Sponsoring your content is legal in Google's eyes. If it were illegal, millions of Influencers who owe their next meal to Instagram would be out of jobs.
To Clarify, In Addition To Sponsored Posts And In-Content Link Placements, You Can Do The Following-
Social Media Sharing by the Publisher on your behalf.
Email Database Marketing by the Publisher on your behalf.
Multiple Cross Sharing by the Publisher on all his websites and social pages.
Newsletter marketing by the Publisher on your behalf.
Placing links in articles will only get you to a particular point. If you want to develop a robust SEO and link building strategy, you can ask the publisher or agency for these functions.
I have termed this as a 360-degree Link Building!
This is a great practice to get maximum traction for your brand. This is also a great way in that; multiple links from different domains can be helpful for your business.
If you are looking at a sponsored content platform, ask them whether these features are available or not. If they are, you can rest assured that this is a top-notch link building strategy.
The Future Of Buying Backlinks
Buying backlinks is not going anywhere, period. Yes, Google is stricter than ever before, and according to me, that is a good thing.
It eliminates nuisances who were ruining the practice and attracting unwanted attention. Buying quality backlinks can be done in the right fashion.
I always tell advertisers that they should not buy backlinks just to rank on Google. That is what Google looks out for and comes down heavily on.
Advertisers need to offer useful, user-friendly information on the internet. They need to identify a problem, write a great article on it, and offer themselves as solution providers.
Your brand can benefit through link building in this exact manner.
An Advertiser's Intent Should Not Only Be About Ranking But Also Take Into Consideration:
Am I providing information, which is useful?

Am I creating original and quality content?

Is my intention of reaching out to new audiences?

Do I want to convert visitors into consumers?

Do I want to achieve actual sales?
From the vantage point of publishers, there has also been a change. Many friends have stopped working with resellers. Publishers have become aware of the health of their sites. They do not work with anybody and everybody.
This is where both publishers and advertisers can take help from sponsored content platforms. The platform can serve as a bridge of trust between both parties.
Why Do People Still Buy Backlinks?
Are you interested know if there are still websites that buys backlinks?
You need validation, right?
Yes, many professionals rely on buying backlinks as it brings quick results. Yes, as simple as it may sound.
Many people argue in the favor of buying backlinks and they consider it as worth the risk.
Buying backlinks eases the process (reaching out to people, creating content, requesting backlink, and waiting for results) and takes the workload off your shoulder.
This is why many SEO practitioners take this risk to buy backlinks. And not every time you get caught by Google.
As Google is not fool-proof, so you might not get flagged every time you buy a backlink.
Keeping the penalty aside, the highly impactful benefits of buying backlinks is something that drive professionals to take a risk. If it works, it works well.
Should You Buy Backlinks In 2023? The Final Verdict
Yes, you definitely should. If you are not doing this and want to go the organic route, it might take you a very long time. Trust us, in this industry, time is everything.
The problem is not whether you should buy backlinks or not. The problem is how you should buy backlinks.
Good digital marketing agencies and sponsored content platforms are effective in navigating these waters. If you are able to find agencies or platforms that are trustworthy and professional, you should hold on to them.
If you need any help with regard to the information on buying quality backlinks, please feel free to reach out to us. Click here to shoot your questions.
Happy Link Building Peeps…
Read Also: